Description
Assortment of Spun Cotton Balls for DIY Crafts.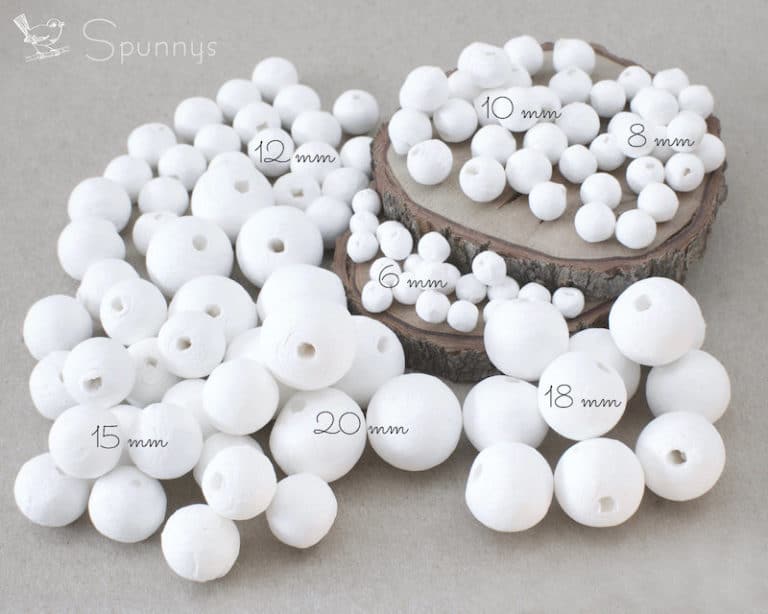 20 balls ø 6 mm
20 balls ø 8 mm
20 balls ø 10 mm
20 balls ø 12 mm
20 balls ø 15 mm
10 balls ø 18 mm
10 balls ø 20 mm
The 6 and 8 mm sizes are perfect to make artificial berry stems, holly berry bouquets, mistletoe berry bouquets, berry earrings…
The 10 mm size is great to make mini Christmas wreaths, small paper flower centers…
The 12 mm size is perfect to make paper flower centers, pipe cleaner animals, peg doll hair buns…
The 15 mm size works great to make blueberry ornaments, paper flower centers, mini Christmas balls, bead necklaces …
The 18 and 20 mm sizes are perfect to make small doll heads, cherry ornaments, pinecone fairies, miniature snowman ornaments…
The balls are sold blank and ready to paint, glitter, and decorate.
Spunnys Spun Cotton Balls are quality craft materials made in Germany.
How to use Spun Cotton Balls ?
Spun cotton balls are very easy to use. You can paint them, glitter them, glue them, draw on them with pencils and markers, embellish them with fabric and paper trimming. There are no rules, they are the perfect outlet to your creativity.
Note that spun cotton balls all have a single hole on one side. You can leverage this feature in several ways:
Mount the balls on toothpicks to conveniently paint them
Once painted and decorated, turn your creations into beautiful hanging ornaments by gluing hanging loops into the holes. You can easily make your own hanging loops from small gauge metal wire.
About Spunnys Ship Free Preset Packs
With SPUNNYS Ship Free Preset Packs, postage is free no matter the quantity of packs that you order. You can also mix and match different Ship Free Preset Packs  and still remain eligible for free shipping.
**When adding a non-PreSet Pack item to the cart, PreSet Pack Free Shipping option will be waived and shipping will default to alternative options available. However, total amount spent will still contribute to Minimum Purchase Free Shipping, if met.