Descrizione
Lovely glass glitter lemon ornaments, handmade from spun cotton, and artfully covered with German glass glitter. Beautiful vintage look reminiscent of the late Victorian era.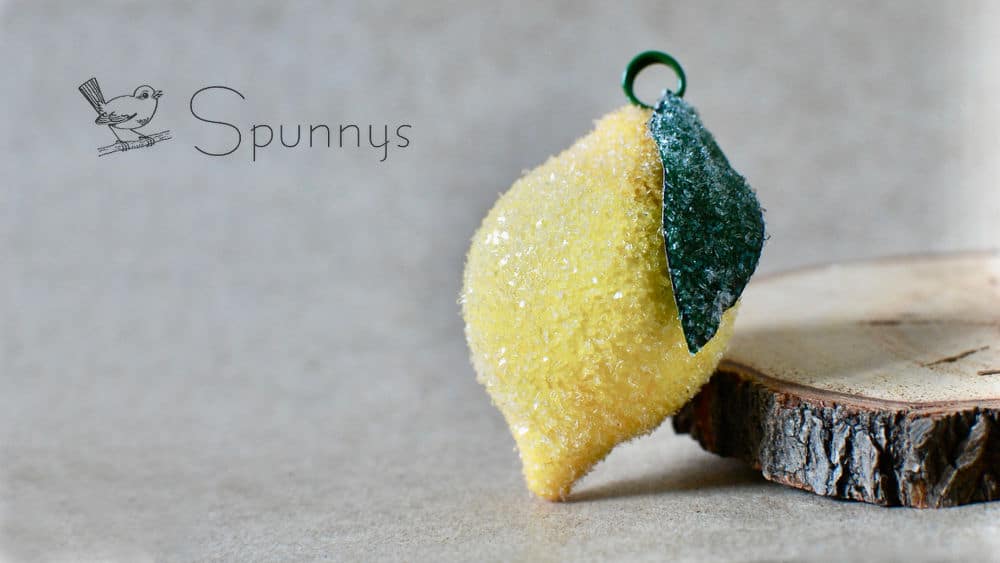 Size:  about 40mm long and 30mm wide
(about 1 and 9/16 " long  x  1 and 1/8″ wide)
These sparkling beauties make for beautiful Christmas ornaments and look charming hanging from the Christmas tree.
All of our ornaments are of premium quality. To make the lemons, we use blank spun cotton lemon shapes from our store. They are finished with a handmade paper leaf and a green metal wire loop.
Just like any of our ornaments, our glass glitter lemon ornaments can be made to order. If our stock is low, please contact us (nicolas@spunnys.com) and we'll quickly manufacture what you need.
Handling glass glitter lemon ornaments: Questions and Answers
How heavy are the lemons ? 
Each lemon ornament is about 5 grams (.18 ounces)
Will some glitter come off the lemons and end up on my floors? 
No, the glitter won't come off the shapes unless you rub them against each other. To prevent the glitter from coming off, we use liquid glue, not spray, and we apply a generous amount of it before sugaring the ornaments with glass glitter.
Is the glitter edible ? 
NO! The glitter is made of real glass. Glass glitter ornaments are not toys and should never be given to young children.
Do you sell other glass glitter fruit ornaments ? 
You can check out our store page to see what other fruit ornaments we offer. If we don't have what you are looking for, we'd be happy to make it for you :)