Description
Spun Cotton Mushroom blanks are fun craft materials. They are versatile, easy to use, and the base for countless DIY projects.
Some of our popular sizes :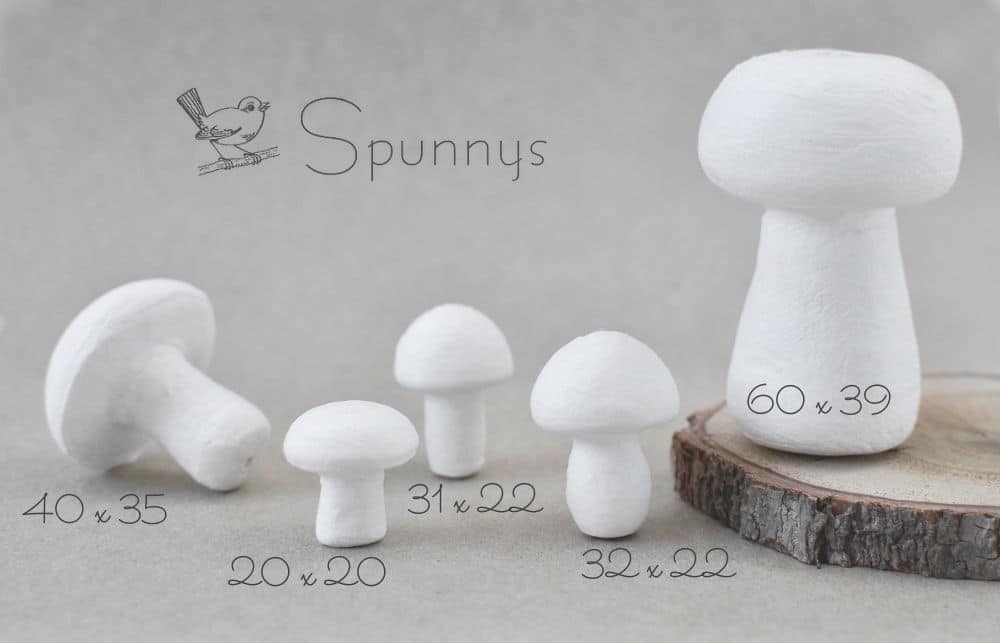 Spun Cotton Mushrooms: Frequently Asked Questions
Can Spun Cotton Mushrooms be painted?
Absolutely. For example, with SPUNNYS blank mushrooms, one can create mushroom ornaments that are similar to the "store bought" decorative mushrooms (often referred to as German Spun Cotton Mushrooms). To recreate the look of "store bought" mushrooms, we recommend using enamel paint and a thick glossy finish such as mod podge.
What paint is recommended?
We like acrylic paint because it dries very fast. However, any paint that works on paper would also work fine on spun cotton. When painting the dots on the caps of the mushrooms, using a paint that has a fairly liquid consistency makes it is easier to make nice rounded dots.
Should a clear coat finish be used?
Only if you would like to give your mushrooms a lacquered finish or if you would like to protect them from getting dirty over time.
Any tips to help with the painting process?
To paint the mushrooms with ease and precision, insert a bamboo stick in their stems. Then hold your brush in one hand and the stick in the other hand. It's particularly useful to paint along the edge of the mushroom caps. One simply needs to spin the bamboo stick while holding the brush still against the mushroom. Once painted, to let the paint dry, simply rest the sticks in a container so nothing will get in contact with the mushrooms while they dry.
What can I make with blank spun cotton mushrooms?
Make beautiful colorful spun cotton mushroom ornaments
They are also referred as German spun cotton mushrooms.
Craft your own Jewelry
Make your own necklace pendants from ou blank mushrooms
Create bouquet decorations
You could insert a floral stem in the mushrooms and add them to floral arrangements.
Design your own Christmas ornaments
Simply rap the other end around a Christmas tree branch.
Make some vintage inspired Victorian ornaments
cover them with glitter, ribbon, Dresden, glue a metal hanging loop on top, and voila.
Create an enchanted forest scene
Start with a little moss, add a few painted mushrooms, add elves, gnomes, fairies.
The sky is the limit
Time to get creative!
SaveSave