Description
Spun cotton balls are great DIY craft materials. They are versatile, easy to use, and the base for countless projects.
Here are a few of our most popular sizes side by side :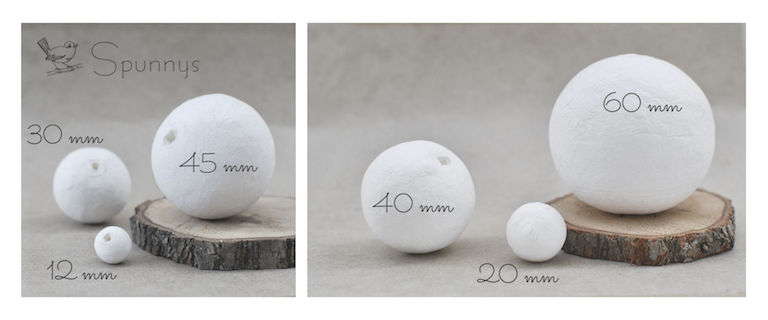 Project ideas
You can make your own crepe paper flowers, Christmas decorations, spun cotton doll heads (ø 30mm is great) vintage ornaments, Christmas ball ornaments, glittered ornaments, sugar plum ornaments (we recommend ø 40mm),  orange ornaments, cherry ornaments, peach ornaments, radishes and turnips ornaments, doll ornaments, jewelry, fabric covered bead necklaces, pendants, miniatures, figurines, snowmen, polymer art, beads, fabric covered buttons, millinery decorations, pinecone elves and fairies, berry picks and branches, berry wreaths…The list is endless
How to use spun cotton balls ?
Spun Cotton Balls are very easy to use.
Paint them
To do so, we recommend acrylic paint because it is widely available, it dries fast, it is opaque, washable in most cases, and it doubles as a protective layer. If you are making ornaments, you can also consider effect paints such as glitter, shimmer, pearl, or metal. You can even create textures and add thickness to your shapes by mixing paint with sand and gesso.
You can also draw on spun cotton balls with markers, pens, and pencils.
Glue them
You can easily glue 2 spun cotton balls together. Any paper glue will work. Glue adheres very well to the spheres because of their fibrous textures.
Don't hesitate to glue other types of materials on your spun cotton balls. You can embellish the balls with fabric, colored paper, golden trims (Dresden), ribbon, lace, mousseline, crepe paper, chenille stem…
Glitter them
You can sprinkle your shapes with glitter and give them a beautiful vintage shimmery look. You can find so many types of glitter: glass glitter (to sugar your ornaments), snow glitter (so cute), metallic glitter, iridescent glitter, and even glow in the dark glitter. To dust your beautiful creations with glitter, simply brush on some regular white craft glue on your shapes, and sprinkle the glitter with a spoon over a small container. Wait for the glue to dry and…voilà :)
Accessorize them with miniature objects
If for example you are making a snowman, you can accessorize it by adding a miniature hat, broom, and scarf. You can also create a decor with mini animals, trees, houses, and more.
Turn them into beautiful ornaments
Spun cotton shapes all share a common characteristic : they have a little hole on one side that is a remnant from their manufacturing process.  You can leverage this neat feature to easily turn your creations into beautiful ornaments. To do so, simply dip a hanging loop into a little glue and insert it in the hole. To fabricate a hanging loop, you can use a small piece of wire, wrap it a few times around the handle of a paintbrush, then twist the excess 3 to 4 times.
Think completely outside the box
There are some very creative ways of using the shapes. Some people use them as fillers inside of modeling clay sculptures. Some other people use them along with polymer clay to create artful jewelry pieces.
Additional tips
The holes will enable you to hold the spheres with a pick while you paint and decorate them. You will be more comfortable painting and working this way and you won't get any paint on your fingers :)
We recommend using long wooden picks, such as bamboo skewers. This way, when you are done painting and decorating your beautiful works of art, you can leave them on their picks and rest them into a mug or a heavy glass. They will be safe there until they are fully dry.  Note that you can also use a shoebox in which you poke a few holes to rest your freshly painted pieces.
Spun Cotton Balls : questions and answers
Are the shapes really made of cotton ?
They aren't really made of cotton. The name is a reference to the traditional spun cotton ornaments that originated in Germany in the late 19th century. This tradition then spread to other countries such as England and the US. In most English speaking countries, this period is referred to as at the late Victorian era.
Back then, people would use cotton batting and wrap it around metal frames to create beautiful ornaments. These truly vintage ornaments were associated with Christmas and resembled angels, children, Santa Claus, and even animals, fruits and vegetables.
Today, the shapes are machine made and soft paper is used instead of cotton. Nevertheless, the name has carried on through the centuries and is a beautiful reminder of old Victorian crafts.
How are they manufactured ?
Soft paper is rolled tightly into a mold until the desired shape is achieved. The raw shapes are then covered with a starchy solution and oven dried. The final product has a smooth, easy to paint surface. 
Are they soft ?
They are actually pretty firm because the paper has been rolled very tightly. Of course you shouldn't try to crush them.
Another characteristic of the shapes is that they are shatter proof.
Are they eco friendly / green ?
Spun cotton balls are responsible alternatives to polystyrene balls and other art materials made with plastic.
Can they be dyed?
The shapes should not be immersed in liquids. Instead, paint them. Otherwise, they will soften too much.
Do they also go by other names ?
They are sometimes referred to as spun paper balls, or more rarely watte balls (watte means wadding in German).
Any recommended sources of inspiration for projects ?
We love spun cotton shapes and thrive to come up with beautiful and easy project ideas, DIY, and tutorials. Please feel free to visit  our tutorial page for inspiration.
I used your products and would like to show off my projects on your website. What is the best way to send you pictures ?
We love to see your projects. All of our product pages have a review section. You can upload pictures along your review.
And you never know, you may even win a discount coupon by doing so :)
 Thank you for shopping with us
SPUNNYS
The original spun cotton store