Description
Blank spun cotton carrots made in Germany. 3 sizes available, each size has a different style. These shapes are also perfect to make little tree ornaments.
XL: 55mm tall x 24 mm wide (2″ 3/16 x 15/16″). This chubby little carrot has a rounded bottom and a pointier top.
L: 52mm tall x 17mm wide (2″ 1/32 x 11/16″). This carrot is skinnier than the XL carrot and rounded on both ends.
S: 30mm tall x 10mm wide (1″ 3/16 x 3/8″). This carrot is tapered on both ends. This shape would also work great for miniature corn cobs, chili peppers, yams, bananas, cucumbers…
Great to fashion your own miniature ornaments !
Perfect to make realistic looking faux fruits.
Perfect to make shimmery vintage style ornaments.
Perfect to make tree decorations.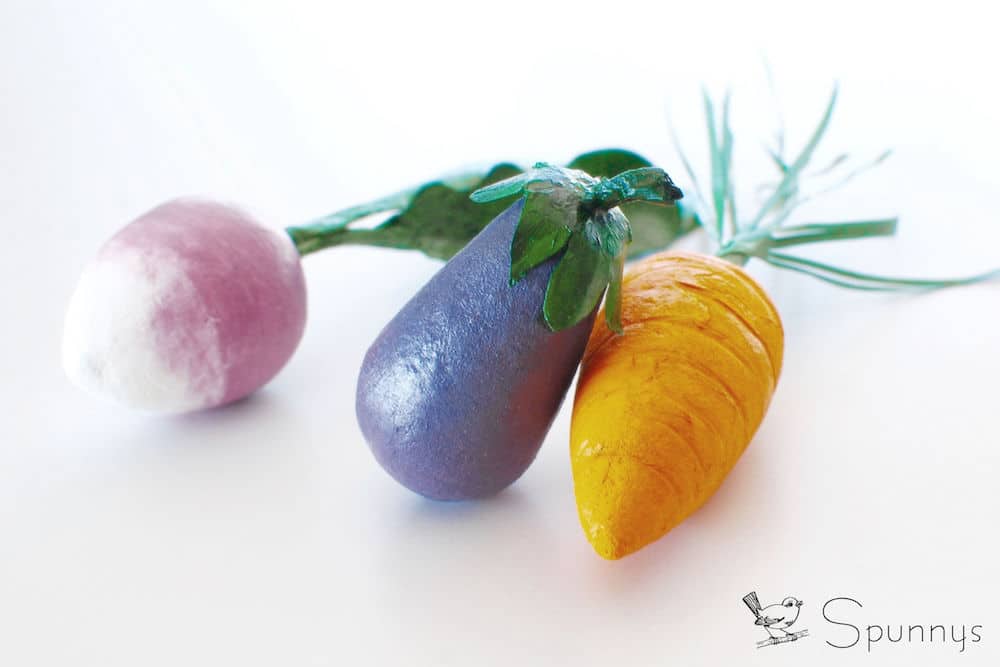 The XL carrot (55mm long x 24mm wide) was used to make this ornament
Working with spun cotton carrot blanks – the basics
Spun cotton shapes are very simple to work with. Any paint that works on paper will also work on them (we recommend a premium quality acrylic paint). You can also use any type of glitter as a finish (German glass glitter, metallic glitter, snow glitter, sugar lookalike glitter…).  To cover the carrots with glitter, simply apply craft white glue with a paintbrush and sprinkle the glitter on the shapes. Let dry until the glue turns from white to clear. Voila!
Each carrot has a hole on top in which a faux stem can be inserted (floral stems sold at craft stores work great).
TIP : The hole can also be used to hold the spun cotton carrots with a pick during the painting and decorating process. This way you won't get any paint on your fingers.
TIP: For a more realistic look, do not hesitate to dent the shapes with your fingernails (or with a tool) to create little horizontal ridges.
DID YOU KNOW: regular spun cotton balls also work great to make fruit and veggie ornaments. For example, small size balls are perfect for peas, holly berries, mistletoe, blueberries, red currants, black currants…
Lowest prices – low international shipping rates – free shipping available for larger orders