Description
Spun cotton eggs, available in several different sizes.  Great for arts and crafts projects.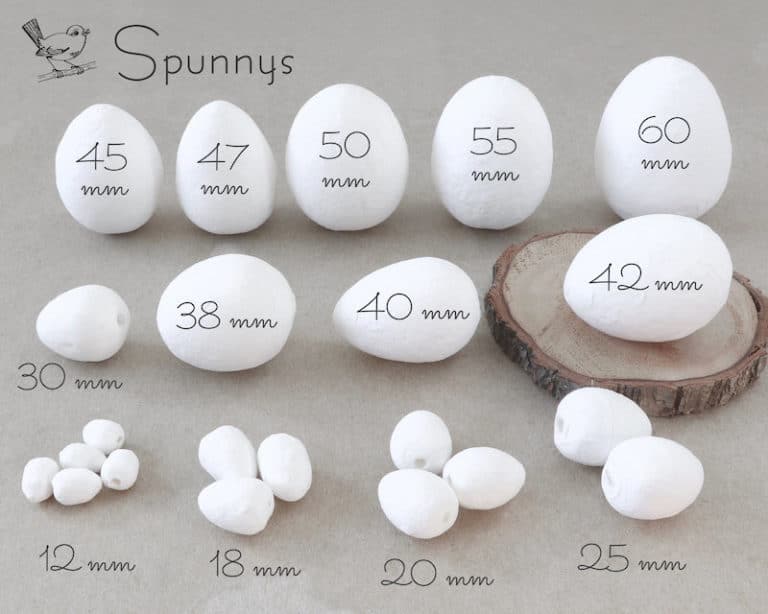 The dimensions in the picture are the heights
Diameter Size Chart
The diameters are given at the widest point
12mm tall eggs have a diameter of about 8 to 9 mm
17mm tall (limited edition) –> ø 14 to 15 mm
18mm tall –> ø 12 to 13 mm
20mm tall –> 14 to 15 mm
25mm tall –> ø 18 to 19 mm
30mm tall –> ø 21 to 22 mm
34mm tall (limited edition) –> ø 29 to 30 mm
36mm tall –> ø 28 to 29 mm
38mm tall –> ø 31 to 32 mm
40mm tall –> ø 28 to 29 mm
42mm tall –> ø 32 to 33 mm
42mm tall (limited edition) –> ø 35 to 36 mm
45mm tall –> ø 36 to 37 mm
47mm tall –> ø 34 to 35 mm
50mm tall –> ø 40 to 41 mm
55mm tall –> ø 40 to 41 mm
60mm tall –> ø 44 to 45 mm
Spun Cotton Eggs: project ideas
Spun cotton eggs are very easy to paint and decorate.
Small size eggs such as 12 and 18 mm eggs work great to make paper flowers. To make a paper flower, simply cut petals into crepe paper and glue them around the base of an egg.  Keep the egg on a wooden stick while you work on it. When finished, replace the wooden stick with a floral stem.
The 12 mm eggs are also perfect to make artificial pussy willow branches.
Larger eggs are perfect to decorate for Easter (or any other occasion). They are great alternatives to plastic and polystyrene eggs. You can paint the eggs and/or cover them with glitter, ribbons, Dresden trimmings… To apply the glitter, first apply liquid craft glue over the eggs with a brush. When done,  sprinkle the eggs with glitter over a small bowl. Let dry and voila :)
Each egg has a single hole at the bottom in which an ornament hanging loop or a floral stem can easily be inserted.
Spun Cotton Eggs: Questions and Answers
Can the eggs be dyed like real eggs?
They should not be immersed in liquids. The eggs would turn soft and spongy and may lose their original shapes
Can they be painted?
Absolutely, they are made of paper and are ready to go. There is no need for any primer.
How to paint Spun Cotton Eggs?
The easiest way to paint them is to insert a wooden pick at the bottom and use it as a handle. All spun cotton shapes already have a little hole at the bottom .
To paint a straight line around the egg, simply spin the pick while holding the brush still.
What paint is recommended?
We like acrylic paint because it dries fast and once it is dry, it creates a strong protective layer around the egg. To protect the eggs even further, you can finish them with a non toxic clear coat such as mod podge.
How do spun cotton eggs compare to plastic and styrofoam eggs?
Spun cotton eggs are much easier to paint than plastic and styrofoam eggs. The feeling is similar to the one of painting on paper. Paint doesn't smear and dries almost instantly.