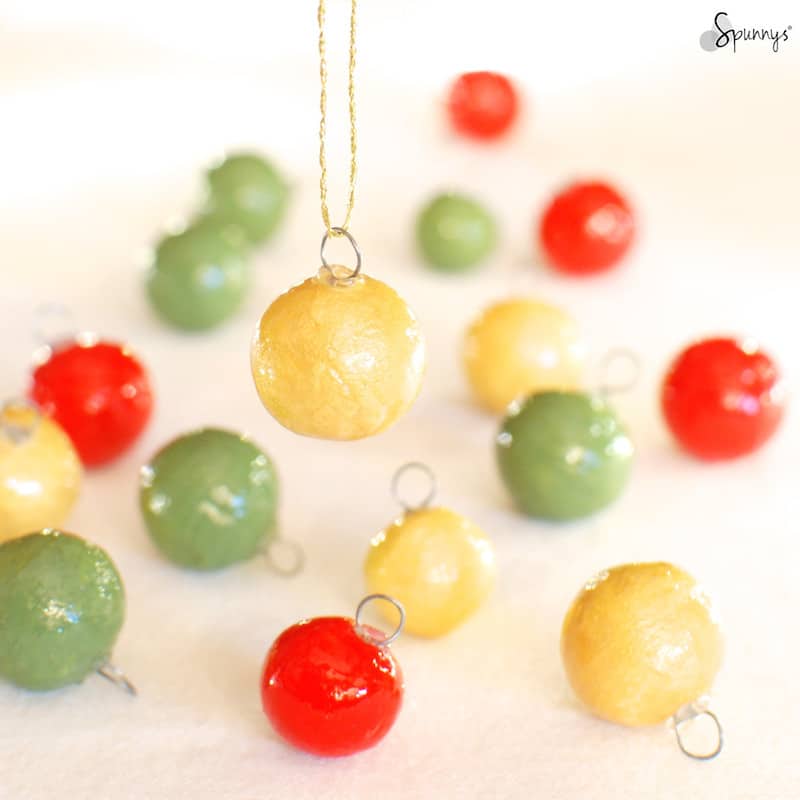 Check out our tutorial and learn how you can make your own mini Christmas Ball Ornaments using spun cotton balls as lightweight / shatterproof fillers. Miniature ornaments are perfect to decorate small size Christmas trees or to make your own wreaths.
Mini Christmas Ball Ornaments Tutorial – The short version
To make one mini ball ornament, follow these three easy steps:
(1) Paint a spun cotton ball
(2) Pour glue in the hole
(3) Insert a metal loop.
Tutorial – The long version
Materials:
To make mini Christmas ball ornaments, you will need:
– Small gauge metal wire or a pack of ornament hooks.
– A pair of wire cutters and a pair of round nose pliers.
– 18mm and 20mm Spun cotton balls.
– Paint and a paint brushes.
– Toothpicks.
– A glue gun or some regular white craft glue.
– A glossy finish such as glossy mod podge
– OPTIONAL : glitter
1. Paint the balls.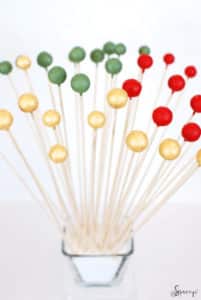 Balls drying up on bamboo sticks
Mount the spun cotton balls on wooden picks and paint them with solid colors. Spun cotton balls are made of paper and paint very easy.
2. Add a gloss finish
For a shiny look, dip your mini Christmas ball ornaments in glossy mod podge and wait until it hardens.
3. Prepare your hanging loops:
Loop short pieces of metal wire around your round nose pliers and twist the ends together. When done, cut off the excess wire with a wire cutter. If you do not have round nose pliers, you can loop wire around the handle of your painbrush to create the loop.
4. Glue the hanging loops to the balls.
You can use a glue gun or regular white craft glue. Both have pros and cons. With a glue gun, you will work a lot faster, but with regular glue, you won't leave glue marks on top of the balls.
Pour a small amount of glue in the hole, and insert a metal loop right away. Note that all spun cotton balls have little holes.
You are done :)
I hope you enjoyed this tutorial. Note that spun cotton balls come in plenty of sizes and that you could use the same technique to make regular size Christmas ball ornaments as well.
Happy Holidays to all of you!