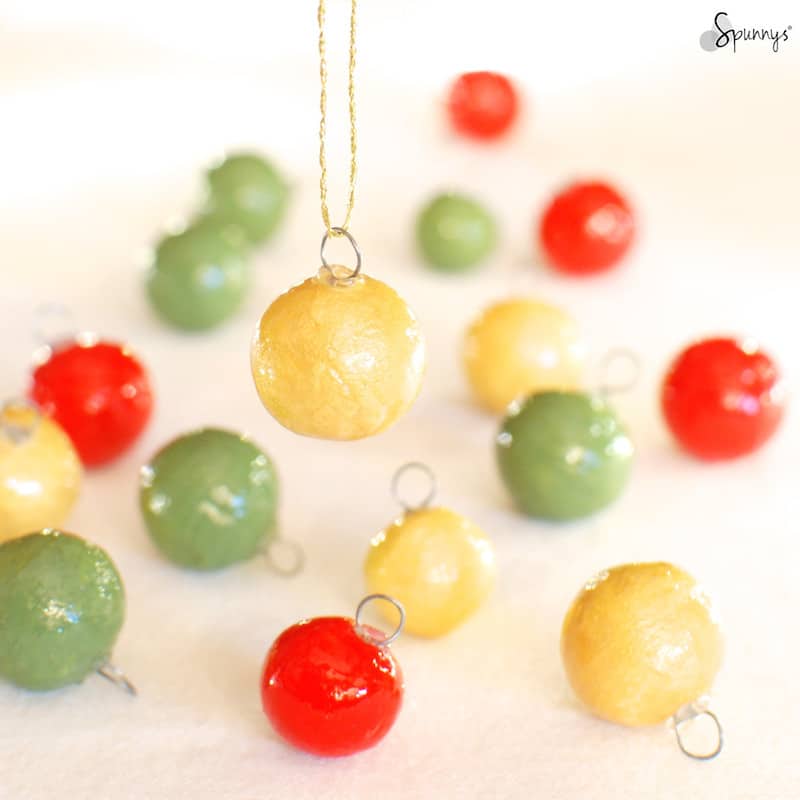 VERY IMPORTANT: This craft idea is not recommended for families with young children. Mini-ornaments can look like candies.
These mini Christmas ball ornaments are adorable and beautiful. They are perfect to decorate small Christmas trees, and Christmas wreaths.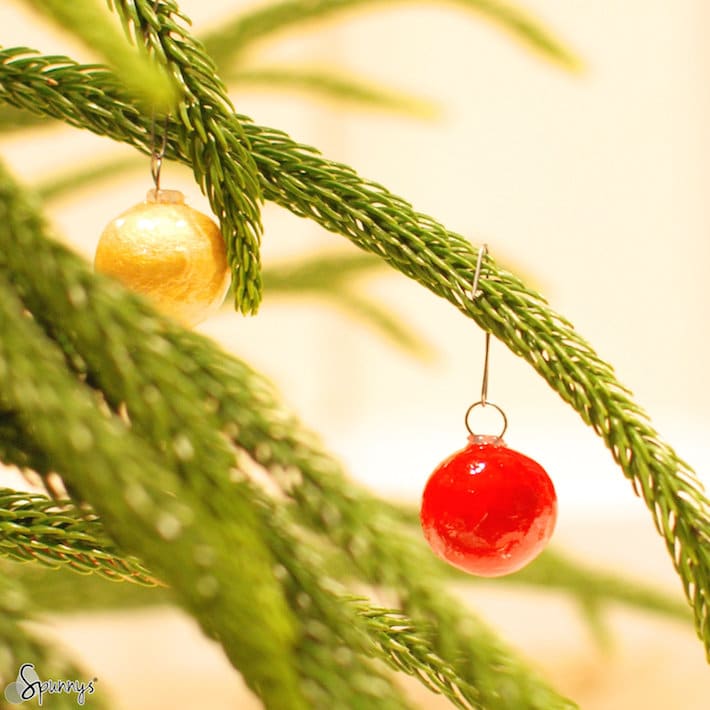 To make one mini ball ornament, all there is to do is:
(1) Paint a spun cotton ball
(2) Pour glue in the hole
(3) Insert a metal loop.
MINI CHRISTMAS BALL ORNAMENTS: FULL DETAIL TUTORIAL
MATERIALS:
To make the mini Christmas ball ornaments, you will need:
– A pack of ornament hooks, the "C-shape" cheap kind is perfectly fine.
– A pair of wire cutters and a pair of round nose pliers.
– Spun cotton balls. I used 18mm and 20mm diameter balls.
– Paint and a paint brush (more on that in the "painting the balls" section below)
– Toothpicks.
– A glue gun.
Spun cotton balls are a really good fit for this project because they are lightweight, they are extremely easy to paint, and they all already have a little hole.
As optional materials, you could use glossy mod podge, sparkly mod podge, or any materials you would like to use to decorate the mini Christmas ball ornaments. Personnaly I think the ornaments look great with just paint on them, but you can add glitter, fabric, ribbon, sequins – anything.
PAINTING THE BALLS: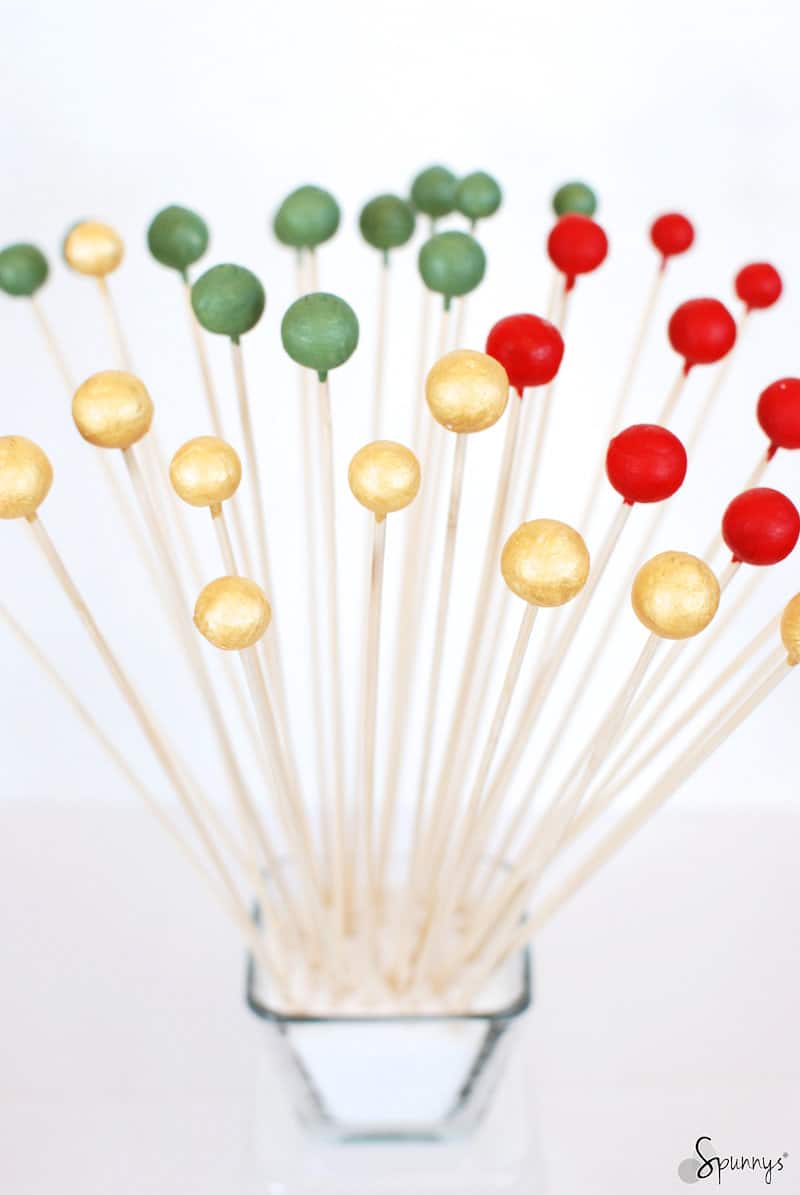 Balls drying up on bamboo sticks
The type of paint you use doesn't matter much as long as it has a good covering power and as long as it dries pretty fast.
Spun cotton balls are made of paper so any paint that works on paper will also work on spun cotton balls. I used acrylic and enamel paints. I know enamel is not really intended for paper surfaces but in my experience enamel paint works just fine. I also find that paint with liquid consistencies are much faster to apply.
As far as brushes, the kind of brushes you use doesn't matter much either. It's so easy to paint a spun cotton ball that any type of brushes work.
Paint cotton balls are very easy to paint "on a stick". This way you don't have to hold the balls with your fingers. I find that toothpicks or bamboo skewers work well!
When you are done painting a ball, you can just rest the toothpick or the bamboo stick in a pot filled up with sand or dirt. I used kitchen salt just so that it looks nice in the picture. [divider_flat]
MAKING THE METAL WIRE HANGING LOOPS:
To make the loops, I used the "C-shape" ornament hooks that you can see in the pictures. They are cheap and a pack of 150 can be found for around $1. Basically they are small pieces of wire, about 2 inches long, bent on each ends into a "C" shape figure.
To make on loop, I unbend an ornament hook, hold it by its center with a round nose player, and twist the ends together. I then cut off the excess wire with a wire cutter. It's not difficult at all.
POURING THE GLUE: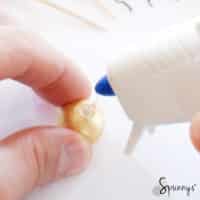 I use a hot glue gun because hot glue dries fast. Regular white craft glue would work too but it would take for ever to wait for the glue to harden and dry.
After pouring the glue in the hole, you should insert a metal loop right away, before the glue hardens.
YOU ARE DONE! This is really all there is to it. You can use these minis on small Christmas trees, wreaths, decor pieces made of tree branches – anything.
Now if you would like to complicate this craft project a little bit, the next section of this tutorial is for you. [divider_flat]
A FEW MORE IDEAS
You can be very creative with this craft project and don't have to follow the instructions to the letter. For example:
– For shiny looking mini christmas ball ornaments, you can dip them in glossy mod podge before adding the metal loop. It's a little more work and the whole project will take a lot more time (glossy mod podge takes a while to dry) but the end result will look great.
– In the same line of thought, for sparkling ornaments, just dip them in sparkly mod podge.
– Spun cotton balls come in plenty of sizes. The same technique can be used to make larger christmas ball ornaments.
– Instead of spun cotton balls, one could use spun cotton bells, spun cotton eggs, spun cotton snowmen, spun cotton mushrooms… All spun cotton shapes have a little hole on one side, just like the balls. So it's always very easy to add a metal loop (note: for the mushrooms, the hole is at the bottom of the shapes, not on the cap side).
– If you do not have any metal wire to make the hanging loop, it's ok! There are more ways to hang these mini ornaments.
You could make a loop out of string
You could use a pipe cleaner to hang your mini ornaments. Twist one end of the pipe cleaner around a tree branch, and insert the other end in the hole of a mini-ornament.
I hope you enjoyed this tutorial and hope you are ready to make your own mini Christmas ball ornaments. If you have any questions or if you have ideas that you would like to share, feel free to use the comment section below.
Happy Holidays to all of you!