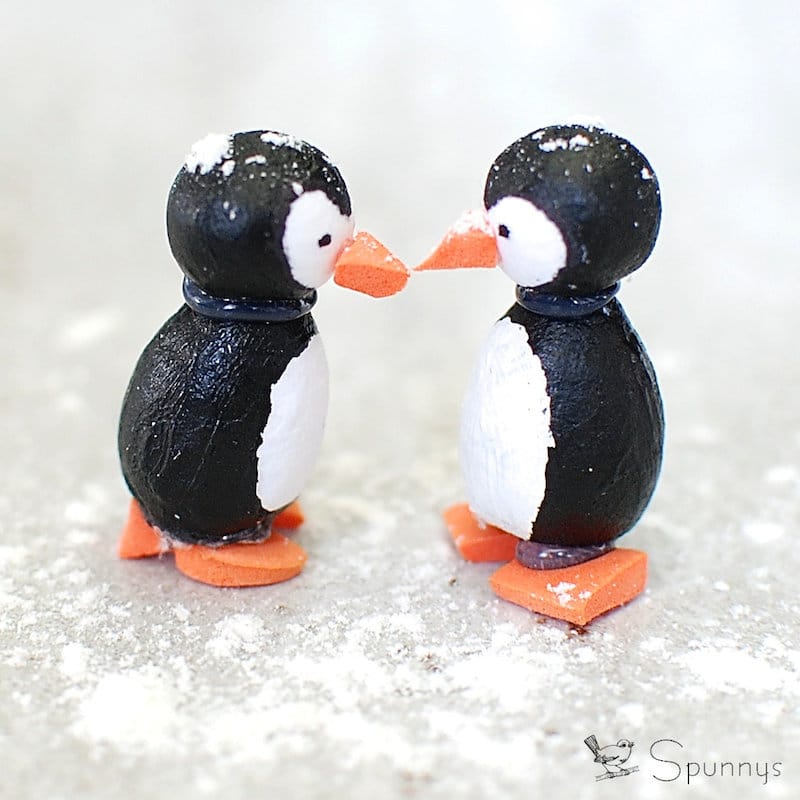 An easy and simple way to make your own adorable little penguin figurines is to use spun cotton shapes. Spun cotton shapes can be glued to each other and painted. Most white glues and most paints work. It's fast, simple, and easy.
These adorable penguin figurines were made with 12mm spun cotton balls (for the heads) and 20mm spun cotton eggs (for the bodies)
Spun cotton balls and spun cotton eggs come in plenty of sizes.
A little flour was sprinkled around for the picture
Project materials
The essentials
● Spun cotton balls and spun cotton eggs.
● Some glue. Tacky glue or a glue gun are recommended.
● Black paint and a paint brush. Acrylic word well and dries fast. It's also fine to use a black marker.
● A little pice of orange foam pad for the beak and feet. A piece of cardboard or strong paper painted orange would work too.
● A pair of scissors.
Optional (nice to have but not necessary):
● Bamboo skewers or toothpicks. They make it easy to hold the spun cotton shapes during the painting process.
● A pencil (to outline before painting).
● A fine black marker (to paint the eyes).
● A clear varnish to protect your work. I like to use mod podge because it's non-toxic.
Directions
To make one penguin figurine:
Step 1: Paint one ball and one egg with black paint. Leave the belly and face areas blank. If using a glue gun (like us), it is important to paint the shapes before gluing them together.
It helps to use a toothpick to hold the spun cotton shapes.
Step 2: When the paint is dry, glue the ball on top of the egg.
Step 3: Draw the eyes with the black pen
Step 4: Cut the feet and the beak in the piece of orange foam and glue them on.
THIS IS IT. REPEAT WITHOUT MODERATION.
Penguins are social animals. Make plenty!
Variants
Variant #1: Penguin figurines could also be made by stacking two spun cotton balls instead of stacking a spun cotton ball on top of a spun cotton egg.
Variant #2: More than just penguin figures could be made with spun cotton shapes. One could try to make a snowman, polar bears, reindeers… The sky is the limit.
A cute little polar bear figure made with two eggs and four balls for the paws.
The large penguin and large bear were made with 45mm balls for the bodies and 30mm balls for the head (and 15mm balls for the bear paws)
You may also like…
…our pipe cleaner penguins tutorial. Pipe cleaner penguins are adorable too.
And our cute little penguin ornaments made with SPUNNYS blank figurine bodies
Thank you for reading and we hope you enjoyed these penguin craft ideas. As always, if you have any questions, do not hesitate to get in touch or to leave a comment. Happy crafting!