Description
Spun cotton balls ø 6 mm are our tiniest size balls and are perfect for DIY crafts items such as paper flowers and berry picks. They are about the size of peppercorns.
Spun cotton balls ø 6 mm • Project Ideas
The 6 mm size is great to make your own crepe paper flowers, jewelry, mistletoe branches, holly berry branches, berry picks, Christmas wreaths, peg doll hair buns, Winter scenes, miniature snowballs, and much much more.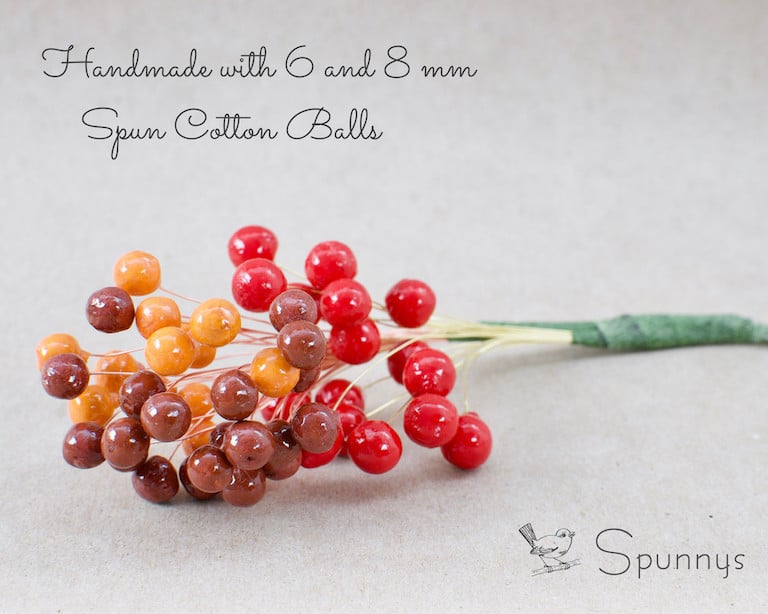 For spun cotton shapes project ideas in general, you can visit our tutorial section.
Spun cotton balls • How to use
Spun Cotton Balls, and spun cotton shapes in general, are very easy to use.
Paint them
To do so, we recommend acrylic paint because it is widely available, it dries fast, it is opaque, washable in most cases, and it doubles as a protective layer. If you are making ornaments, you can also consider effect paints such as glitter, shimmer, pearl, or metal. You can even create textures and add thickness to your shapes by mixing paint with sand and gesso.
Glitter them
You can sprinkle your shapes with glitter and give them a beautiful vintage shimmery look. You can find so many types of glitter: glass glitter (to sugar your ornaments), snow glitter (so cute), metallic glitter, iridescent glitter, and even glow in the dark glitter. To dust your beautiful creations with glitter, simply brush on some regular white craft glue on your shapes, and sprinkle the glitter with a spoon over a small container. Wait for the glue to dry and…voilà :)
Glue them
Don't hesitate to glue other types of materials on your spun cotton balls. Glue adheres very well to them because of their fibrous textures. You can embellish the balls with fabric, colored paper, golden trims (Dresden), ribbon, lace, mousseline, crepe paper, chenille stem.