Description
Spun cotton balls ø 30mm are fantastic craft materials. They are versatile, easy to use, and the base for countless projects.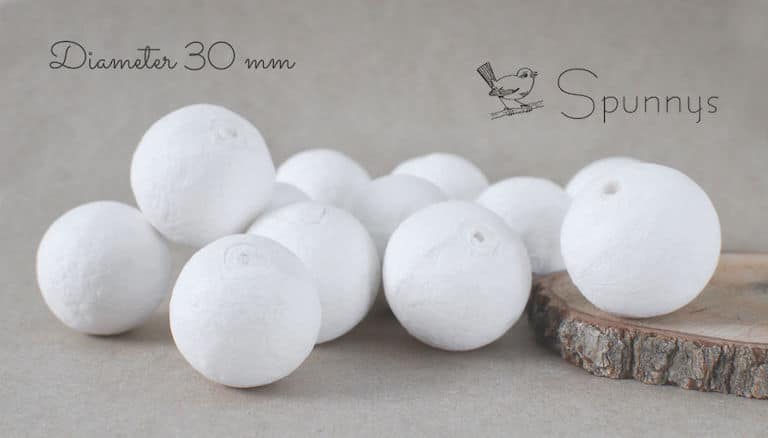 Project ideas
There is no limit to how many projects you can make with spun cotton balls.
We used the ø30 mm balls in our vintage spun cotton doll heads tutorial. Their sizes work particularly well for this specific project.
However, you can also utilize the ø30 mm balls to craft your own Christmas decorations, vintage ornaments, Christmas ball ornaments, glittered ornaments, mini sugar plum ornaments, cherry ornaments, radishes and turnips ornaments, jewelry, necklaces, miniatures, figurines, snowmen, polymer art, beads, buttons, millinery decorations…The list is endless
How to use spun cotton balls ?
Spun cotton shapes are arts and crafts staples. Use them to express your creativity..
Paint them
Firstly, they can be painted. To do so, we recommend acrylic paint because it is widely available, it dries fast, it is opaque, washable in most cases, and it doubles as a protective layer. If you are making ornaments, you can also consider effect paints such as glitter, shimmer, pearl, or metal. You can even create textures and add thickness to your shapes by mixing paint with sand and gesso.
Glitter them
Secondly, you can also sprinkle the spun cotton balls ø 30mm with glitter and give them a beautiful vintage shimmery look. You can find so many types of glitter: glass glitter (to sugar your ornaments), snow glitter (so cute), metallic glitter, iridescent glitter, and even glow in the dark glitter. To dust your beautiful creations with glitter, simply brush on some regular white craft paint on your shapes, and sprinkle the glitter with a spoon over a small container. Wait for the glue to dry and…voilà :)
Glue them
Thirdly, don't hesitate to glue other types of materials on your spun cotton balls. Glue adheres very well to them because of their fibrous textures. You can embellish the balls with fabric, colored paper, golden trims (Dresden), ribbon, lace, mousseline, crepe paper, chenille stem.
Combine them with other miniatures
Some people use the shapes along with other miniature craft supplies such as miniature hats, brooms, scarfs, miniature animals, trees, houses… Your imagination is the only limit here.
Turn them into beautiful ornaments
Spun cotton shapes all share a common characteristic : they have a little hole on one side that is a remnant from their manufacturing process.  You can leverage this neat feature to easily turn your creations into beautiful ornaments. To do so, simply dip a hanging loop into a little glue and insert it in the hole. To fabricate a hanging loop, you can use a small piece of wire, wrap it a few times around the handle of a paintbrush, then twist the excess 3 to 4 times.
Think completely outside the box
There are some very creative ways of using the shapes. Some people use them as fillers inside of modeling clay sculptures. Some other people use them along with polymer clay to create artful jewelry pieces.
Additional tips
The holes also enable you to hold the spun cotton balls with a pick while you paint and decorate them. You will be more comfortable painting and working this way and you won't get any paint on your fingers :)
We recommend using long wooden picks, such as bamboo skewers. This way, when you are done painting and decorating your beautiful works of art, you can leave them on their picks and rest them into a mug or a heavy glass. They will be safe until they are fully dry.  Note that you can also use a shoebox in which you poke a few holes to rest your freshly painted pieces.
SPUNNYS
The original spun cotton store