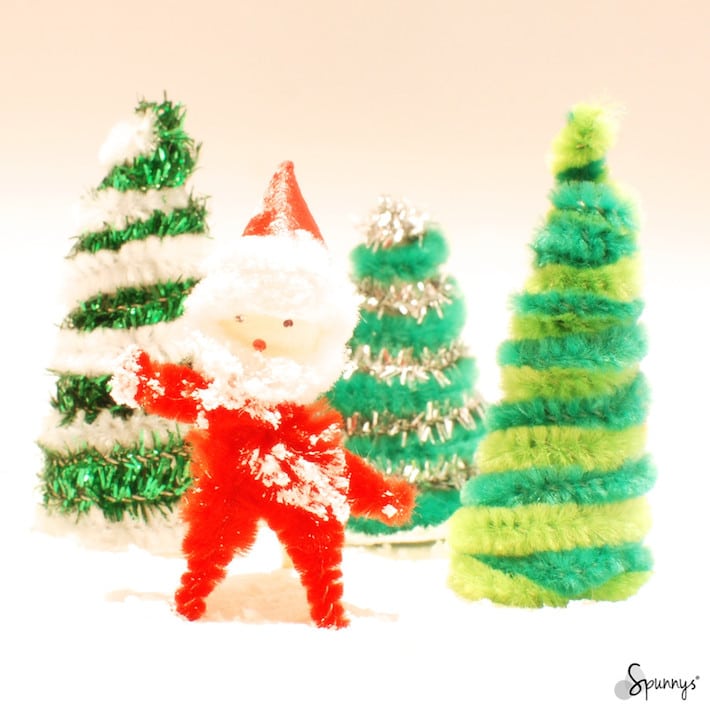 You can make beautiful and Adorable Christmas Santa figurines by combining pipe cleaner and spun cotton shapes. Below you can checkout a few a of our cutest projects and read about a few tips that we thought were relevant.
Project Pictures:
Vintage Santas – Christmas pipe cleaner ornaments
25mm spun cotton eggs, bump chenille, regular chenille
The vintage santa ornaments in three different colors
The heads were made with spun cotton eggs (25mm tall)
The head of the miniature Santa is made with a spun cotton cone (15mm) glued on top of a spun cotton ball (15mm)
Vintage inspired Santa
Santa Claus with a pipe cleaner hat. 47 mm tall spun cotton peg doll.
More Project Pictures – Christmas angels, elves, and snowmen
Angel – Christmas pipe cleaner ornament
Spun cotton peg doll, lace, bump chenille, gold pipe cleaner
Forest gnome – 47 mm spun cotton peg doll
Vintage inspired Eskimo spun cotton ornaments
Snowman Christmas pipe cleaner ornament and candy cane scarf
Christmas pipe cleaner Eskimo ornament
Tips and tricks to make your own pipe cleaner Christmas ornaments:
Tip #1: It's ok if you don't twist and bend your pipe cleaners in the exact same fashion as I did. Your christmas ornaments will look great no matter what.
Tip #2: To make your Christmas pipe cleaner ornaments even softer, you could use "plush" pipe cleaners. It will make the ornaments soft and fluffy.
Tip #3: To make your ornaments look cute, one trick is to use small size spun cotton shapes. For the eskimos for example, I used 12mm spun cotton balls. I feel like miniature anything is almost always cute.
Tip #3: To make the candy cane and the scarf, all you have to do is twist two pipe cleaners into one.
Tip #4: To twist pipe cleaners together, use a pair of pliers. It's easier on the fingers. I like the round nose pliers because they are also useful to bend pipe cleaners into perfect loops.
Tip #5: To draw the face of your Christmas pipe cleaner ornaments, a regular ball pen works great. There is no need for any special tool.
This is it. I hope you enjoy this page and that it motivated you to try making your own Christmas pipe cleaner figurines. As always, if you have any questions, do not hesitate to comment. Happy Crafting!