Molecular model kits can be pricey. One cheap alternative would be to use polystyrene balls but they are not the greatest for the environment. So instead of polystyrene balls, we built our molecules with spun cotton balls. They are cheap, easy to use, sturdy, and, last but not least, completely natural.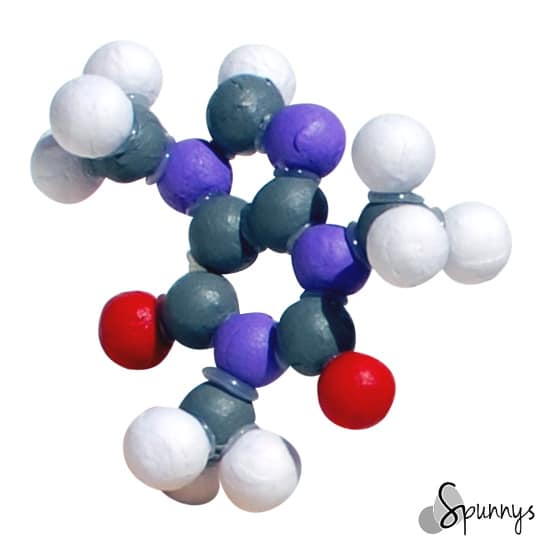 Materials:
CAUTION: this is not a craft idea for children as it requires the use of a glue gun.
Spun cotton balls. They come in many sizes from about a quarter inch

to almost three inches. You can use smaller size balls for smaller atoms such as hydrogen and larger size balls for larger atoms such as carbon and oxygen. For the molecule that is in the picture here, I used 15mm diameter spun

cotton

balls (

about .6 inches in diameter).

Paint and brush (spun cotton balls are sold white, unpainted). I like to use acrylic paint because it dries very fast and looks great.

A glue gun (hot or low temperature).
Directions: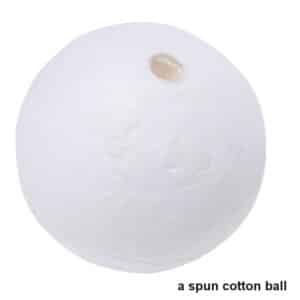 1. Paint the balls. You can insert a bamboo skewer in the balls to hold them (they all have a little hole already). It helps with the painting and with the drying. To dry the balls, you can rest the bamboo sticks in a container. Acrylic paint on spun cotton should dry in about 10 minutes.
2. When the paint is dry, glue the spheres together into the shape of a molecule. With the glue gun it only takes a few seconds for each connection.
This is all that there is to it. It's very fast and easy. To display your molecules, you can glue them onto a nice wooden pedestal, or just glue them onto a piece of cardboard such as a drink coaster. You can start with simple molecules and work your way up to complex molecular models such as DNA models.
I hope you enjoyed this page and got some inspiration for you next molecule building projects. As always, if you have any questions, do not hesitate to get in touch (or leave a comment below), it's always a pleasure to hear from you. Happy crafting!