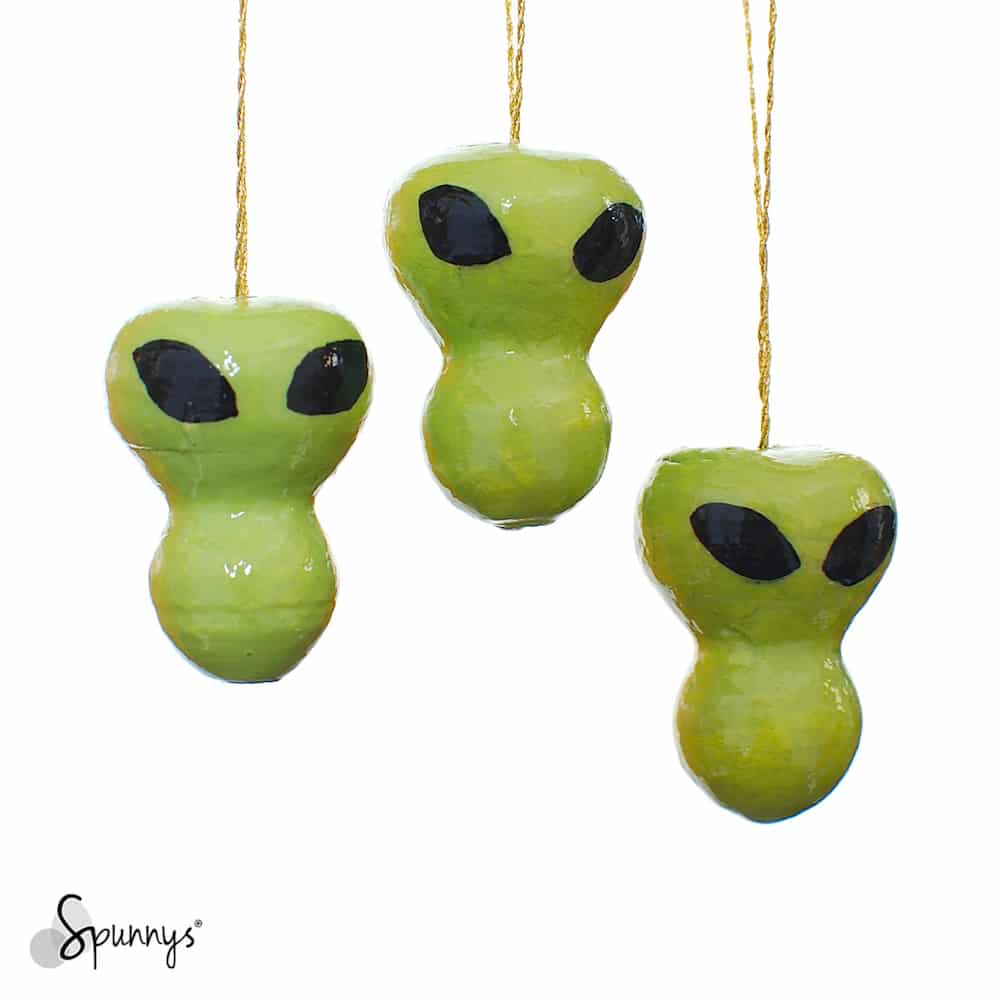 These fun little alien ornaments don't take long to make and only require a few materials. Mod podge was used to give them a slimly shiny look.
List of materials:
– 40mm tall spun cotton peg dolls. Each peg doll will make one alien ornament. It's very easy to make ornaments out of spun cotton peg dolls because the dolls already have a little hole in which a hanging loop can easily be inserted. Note that for this craft, the dolls are actually used "up side down".
Spun cotton dolls all have a hole on the bottom
– Green paint and black paint. You could use any paint that works on paper. I used acrylic paint because it has a good covering power and it dries relatively fast.
– A few bamboo sticks. The sticks have many uses. They prevent you from having to hold your alien ornaments with your fingers while you paint them. Also to let the alien ornaments dry, all you have to do is rest the sticks in a container. Then, they offer a convenient way to dip the ornaments into mod podge. And last, the sticks make resting the dolls while the mod podge dries up easy.
– A jar of glossy mod podge. Glossy makes for the slimy look.
– Your choice of string to make the hanging loop. I used some golden thread.
Project directions:
Step 1: Insert a skewer in each of your peg dolls and paint them all green. Rest the skewers in a container while the dolls dry.
Step 2: Use the black paint and paint the eyes of the alien ornaments. Let dry. Make sure the ornaments don't touch each other while they dry. It happened to me and a little black paint got from one ornament to the other.
Step 3: keep your alien ornaments on their sticks and dunk them in the jar of glossy mod podge. Then find a place where you can rest the sticks in a perfectly vertical position while the mod podge dries. I taped my sticks to the edge of my kitchen counter and let them dry overnight. I put a piece of paper underneath the ornaments to collect the excess mod podge that dripped down (see pictures below).
Step 4: Gently remove the sticks by twisting them and then pulling them out. Do not just pull.
Step 5: Take a piece of string, join the 2 ends together, and tie a knot to make a loop. Tie a second knot over the first knot to enlarge the size of the knot. Then simply insert the knot in the peg doll's hole and push down with a bamboo skewer. You have to push down the knot deep enough down the hole so it doesn't want to come back out. I found that no glue was necessary. However, if you want to secure the loop to the alien ornament, you can insert the loop in the hole and then fill it out with craft glue.
YOU ARE DONE! Now just find a good spot to hang your cool little alien ornaments.
Of course you do not have to follow this tutorial to the letter. You can be as creative as you want with your little ornaments.
For example, I had a little fun with them and dressed them as a bride and groom. I used ruffled lace for the wedding dress and a few pieces of black felt for the wedding hat. It only took a few minutes to make.
It's prom night at Area 51
I hope you enjoyed this simple tutorial and I hope you are ready to get started with your own alien ornaments. It's really an easy craft project for Halloween or for any other time of the year and you will no doubt have a lot of fun with it.