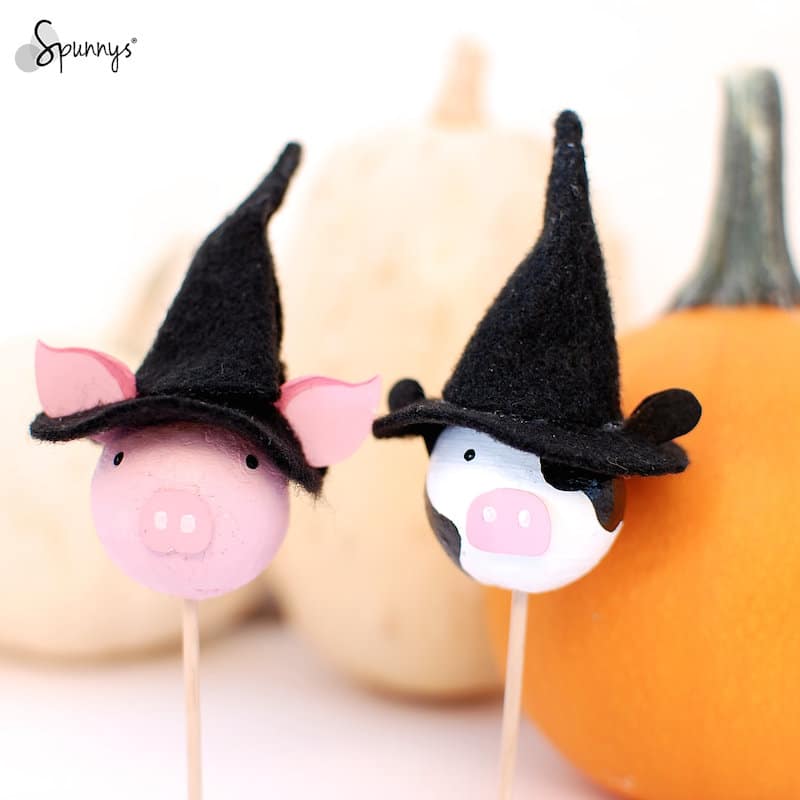 Check out our tutorial and learn how to make these cute little farm animal cupcake toppers all dressed up with spooky witch hats.
1. Make the farm animal toppers.
All the steps and materials to make the toppers are detailed in our previous tutorial: how to make farm animal cupcake toppers.
2. Make the witch hats.
You will only need a few materials:
black felt
a pair of scissors
a tube of white tacky glue.
binder clips.
Step 1: Start with the top part of the hat (the cone). Cut out a "quarter pie" shape in a piece of felt. It doesn't have to be perfect as witch hats are never perfect anyway.
Step 2: Pour a bead of glue along the edge of your cutout.
Step 3: Roll your quarter pie shape into a cone. Use two binder clips to hold the seam shut for 5-10 minutes (until the glue is dry).
Step 4: In a different piece of felt, cut out a doughnut shape. The center hole of the doughnut needs to be slightly smaller than the base of the cone. Then cut out 2 holes in your doughnut to accommodate the ears.
Step 5: Position the felt doughnut on your farm animal topper head.
Step 6: Pour a bead of glue around the inner rim of the doughnut.
Step 7: Gently cover the doughnut with the cone. Let the glue dry until it becomes transparent.
YOU ARE DONE!
I hope you enjoyed this tutorial and that you found some inspiration. As always, do not hesitate to ask your questions in the comment section below. Happy crafting and Happy Halloween!