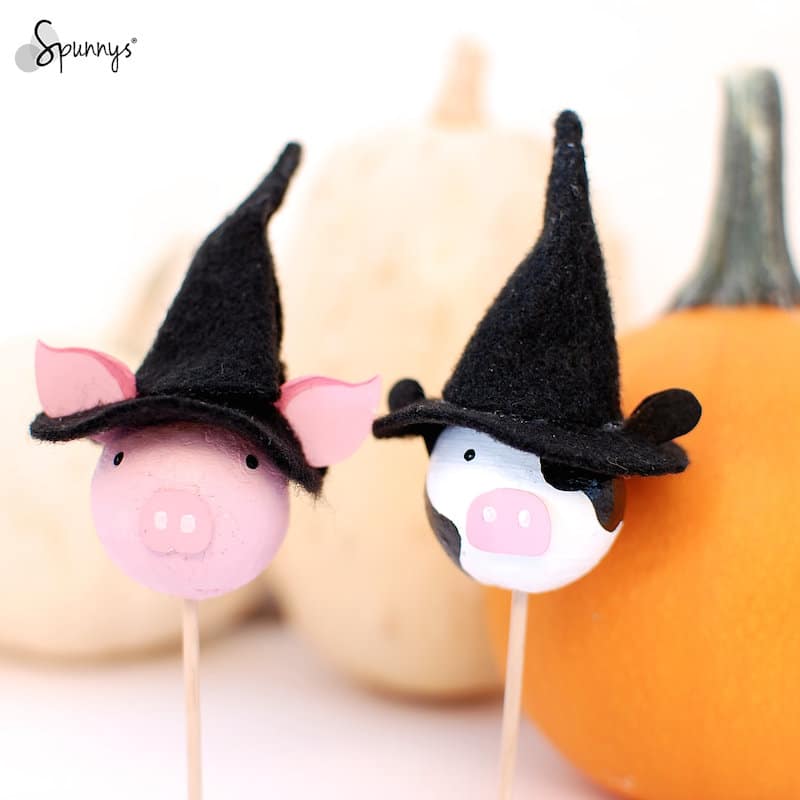 To make these Halloween cupcake toppers, I re-used the farm animal cupcake toppers that I previously made and covered them with miniature witch hats. Don't they look adorable with their little hats on?
Materials needed:
To make the cupcake toppers, you can refer to my tutorial: farm animal cupcake toppers.
Once you have the toppers, you need to make the halloween witch hats. You will need:
– black felt
– a pair of scissors
– a tube of glue. I like Tacky glue because it dries clear and does so relatively fast. You can barely see the glue marks on the black felt when the glue is dry.
– binder clips.
Directions:
– Step 1: Start with the top part of the hat (the cone). Cut out a "quarter pie" shape in a piece of felt. The quarter pie doesn't have to be perfect. Witch hats are a little messy anyway.
– Step 2: Pour a bead of glue along the edge of your cutout.
– Step 3: Roll your quarter pie shape into a cone. Use two binder clips to hold the seam shut for 5-10 minutes (until the glue is dry).
– Step 4: Cut out a donut shape. The center hole of the donut needs to be slightly smaller than the base of the cone. If your farm animal has ears, cut out 2 holes in your donut to accommodate the ears.
– Step 5: Position the donut on your halloween topper head.
– Step 6: Pour a bead of glue around the inner rim of the donut.
– Step 7: Gently cover the donut with the cone. Let the glue dry until it becomes transparent.
YOU ARE DONE!
Now is time to enjoy your halloween cupcake toppers! If you don't have any cupcakes, you can just use them as decoration: stick them in a pumpkin, in an apple, in a floral arrangement…
Of course, you don't have to follow all my directions step by step to the letter. For example, if you are good with a sewing machine, you could probably make way nicer hats than the ones I made
Also, you don't have to follow the farm animal theme. You can make toppers of your favorite movie characters, family members, super heroes…
In any case, I hope you enjoyed this tutorial and that you are ready to start your own halloween cupcake topper project. Feel free to share your tips and tricks or ask any questions in the comment section below. Happy Halloween!