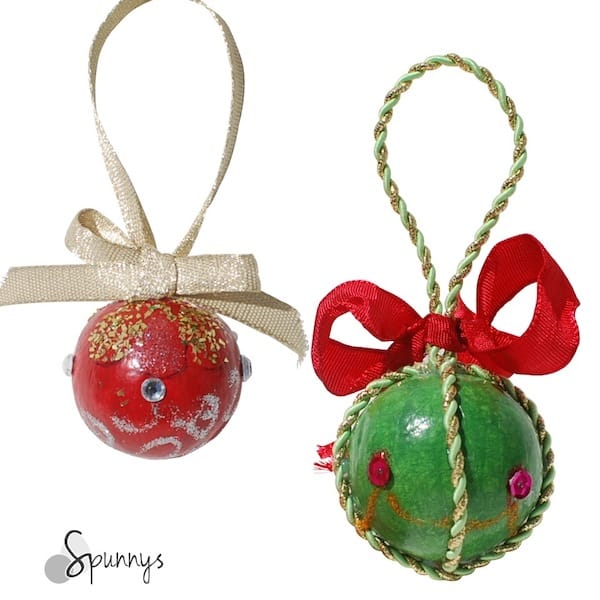 Making your own Christmas ball ornaments is fun and rewarding. And with spun cotton balls, it's also very easy.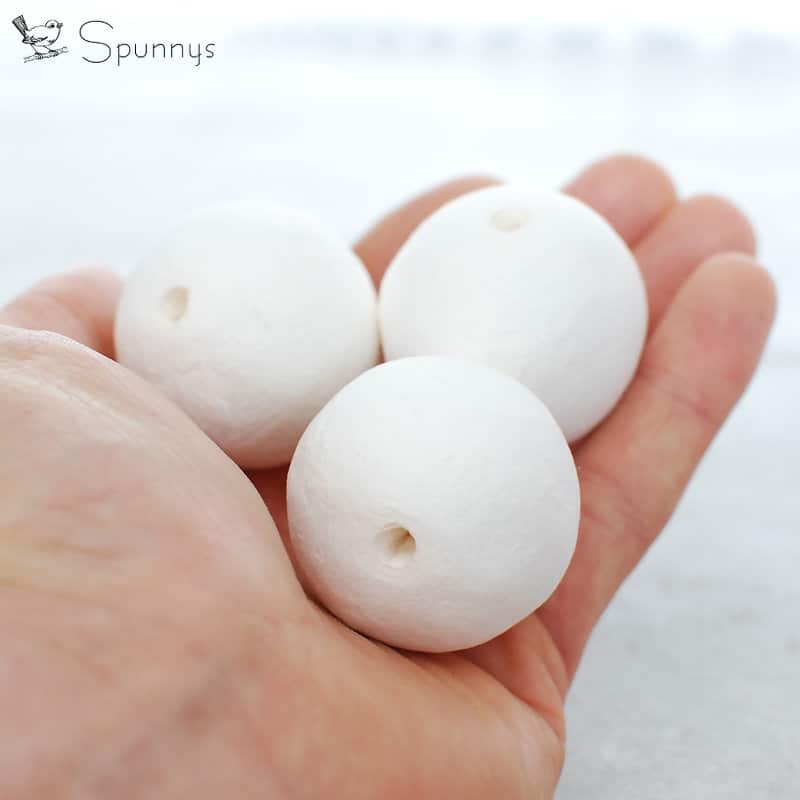 Here are three 45mm spun cotton balls.
Spun cotton balls are very lightweight and have a little hole on one side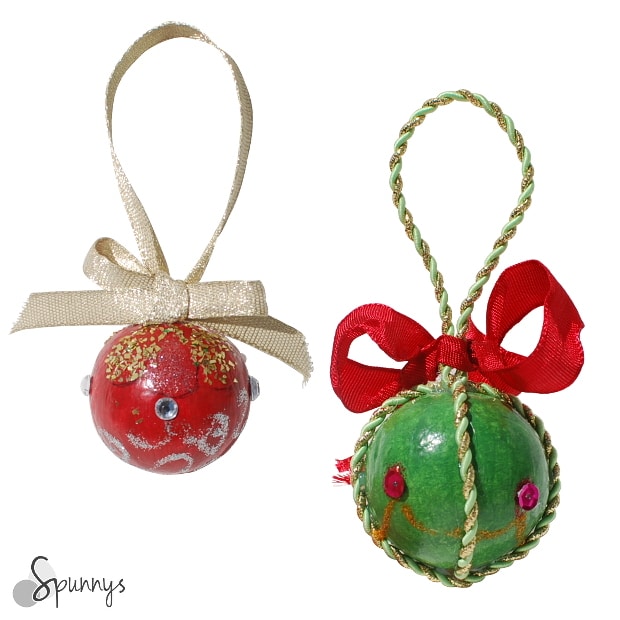 Painting spun cotton balls feels just like painting paper.
PROJECT MATERIALS:
Spun cotton balls. For the Christmas ball ornaments pictured above, we used 45mm diameter balls.
Paint and brushes. We used acrylic paint but any paint that works on paper will also work on spun cotton balls (spun cotton balls are made of paper).
Ribbon or thread for the hanging loop.
Glue / scissors. We used a hot glue gun for most of the gluing because it is fast and effective. We used a glue stick for the glitter. However, regular tacky glue would work fine too. It would just take longer to dry out.
Optional: mod podge for a glossy finish.
Optional: decoration materials such as glitter, fake plastic gems, sequin…
STEP BY STEP DIRECTIONS:
Start by painting the spun cotton balls with one single color. It's easier to hold on to them with a wood stick (bamboo skewer, toothpick…) while painting them. Once the balls are painted, you can rest the sticks in a cup until the paint is dry. The ornaments will dry very fast, in about 10 minutes because the paper is absorbent.
Decorate your ornaments with glitter, ribbon, sequins – anything. You can glue almost anything to the spheres. To apply the glitter, a glue stick works great.
If you want, you can now apply a mod podge finish to your masterpieces. It will hold all the glitter into place and prevent it from ever ending on your floors. We like a mod podge because it's non toxic.
Finish your masterpieces by gluing a fabric loop on top of it. You can glue the loop directly onto the hole. This will not only hide the hole, it will also help anchor the loop as the glue will drip into the hole.
A few words about spun cotton balls:
Spun cotton balls are great arts and crafts supplies. They are similar in use to polystyrene balls except they are made of paper. They are lightweight, sturdy, they don't crumble like polystyrene, they don't end up in the oceans, they are easy to paint, they dry fast, they adhere very well to simple glue, and they are a lot of fun to work with. Just like polystyrene balls, spun cotton balls have a million different uses.
DIY Christmas ball ornaments – easy craftI hope you enjoyed this page and I wish you a lot of fun making beautiful and unique homemade christmas ornaments. If you have any questions, do not hesitate to get in touch or feel free to leave a comment. Happy crafting!