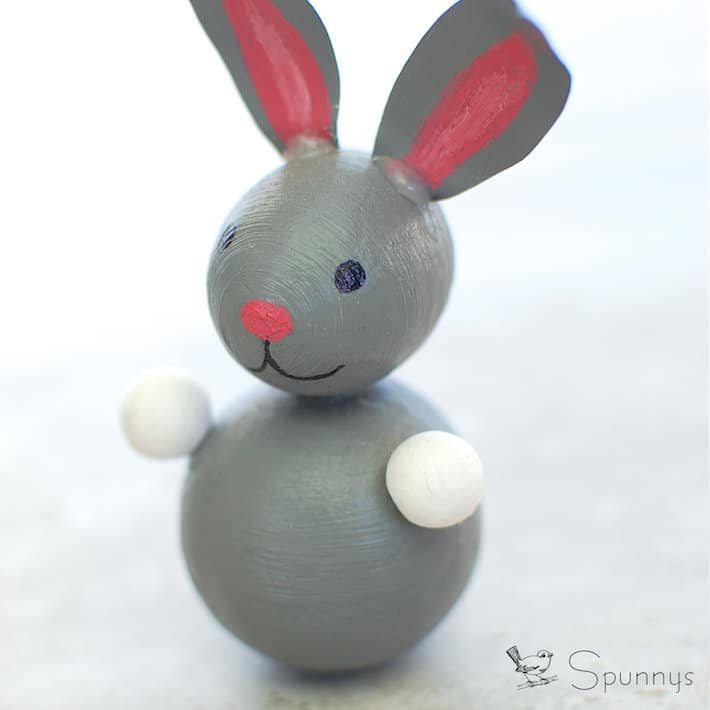 This cute Easter bunny is fun and quick & easy to make. Display him on a shelf, on a desk, on a window sill, on a nightstand, use him as a name holder on a table…the possibilities are endless. A piece of string could also be added so that the rabbit could be hung as a tree ornament. In this tutorial, you will find all the step by step directions needed to make your own Easter bunny.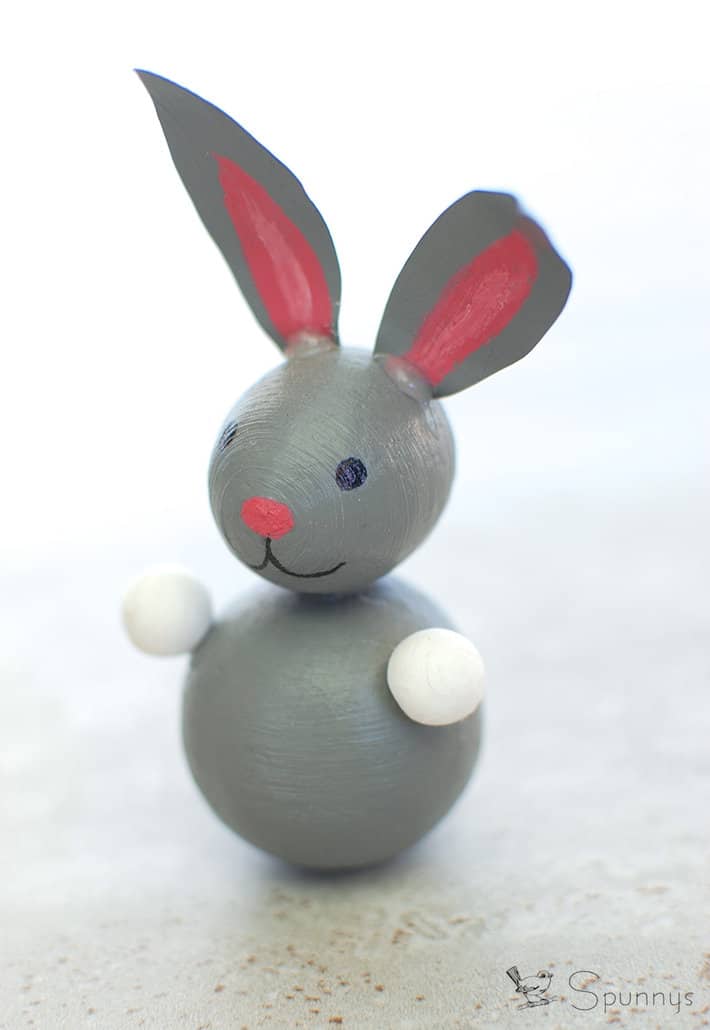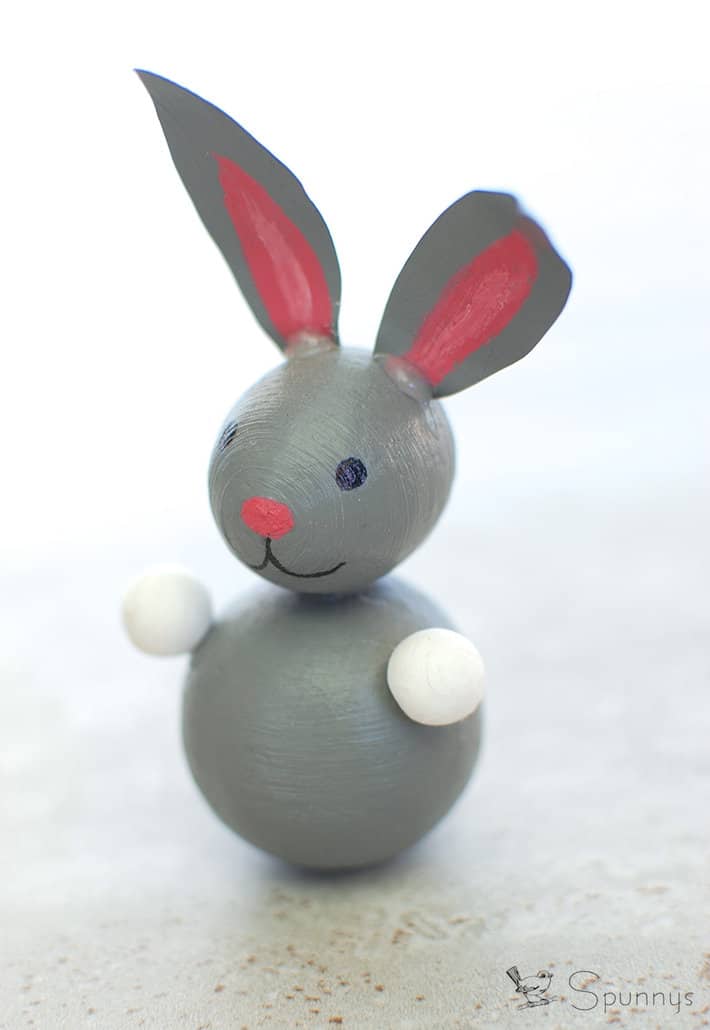 To make the bunny, spun cotton balls were used. They are similar in use to polystyrene balls, but unlike polystyrene balls, they are made of paper. Just like paper, they are easy to paint, glue, and draw on.
PROJECT MATERIALS:
1 45mm (1 – 3/4 inches) spun cotton ball for the body.
2 15mm (19/32 inch) spun cotton balls for the two paws.
1 spun cotton egg for the head. Many sizes eggs would work fine with a 45mm ball (the 36, 38, or 40mm eggs for example would work fine). The 36 and 38mm eggs have a nice rounded shape. The 40mm egg is more pointy. Note that a ball could also be used for the head. In this case I would recommend a 30mm diameter ball.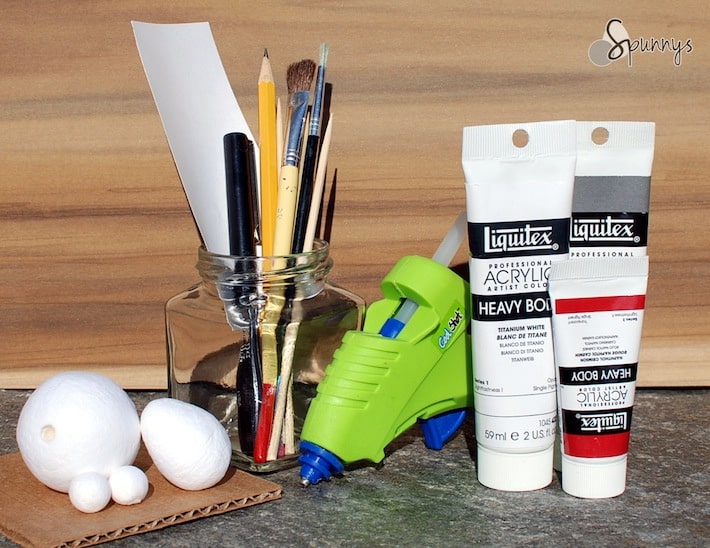 Paint (grey, pink, and white). If you do not have any pink paint, you can mix white paint and a little bit of red paint together. Any paint that works on paper will also work on spun cotton shapes. I like to use acrylic because it has good covering power and it dries fast.
Paint brushes: one large one, one thin one.
A glue gun, preferable a low temperature one. If you do not have a glue gun, white tacky glue will work fine too. It will just take a little longer to dry.
A small piece of paper, about 2″ x 5″, to cut the ears into.
A thin black marker to draw the eyes and the mouth.
A pencil to outline the face features of the bunny before painting over.
A good pair of scissors.
Optional materials:
A little piece of cardboard to build a pedestal for the bunny so it can stand on its own. I used cardboard from the flap of a shipping box. A drink coaster or a cereal box would work too.
A few bamboo skewers. They are handy to paint the shapes and let them dry. (Shapes always have a little hole on one side).
If you want to create a little Easter scene, additional spun cotton eggs would be useful to display around the finished bunny.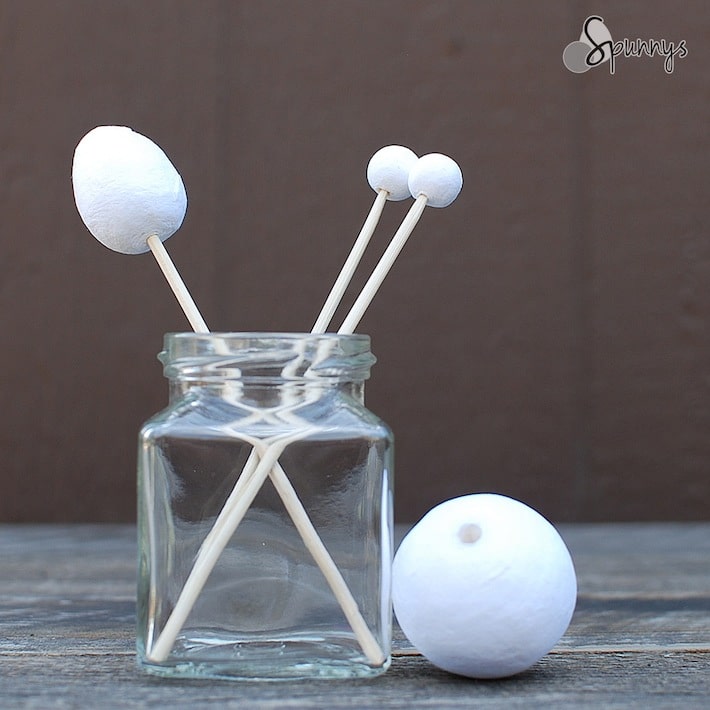 Spun cotton shapes always have a hole in them
STEP BY STEP DIRECTIONS:
STEP 1: body painting
With the gray paint, paint the entire body and head of the bunny. Also paint a small 2-inch long portion of the little piece of paper. Make sure to paint the piece of paper on its two sides. When you are done painting, you can rest the paper in a cup or a jar while the paint dries.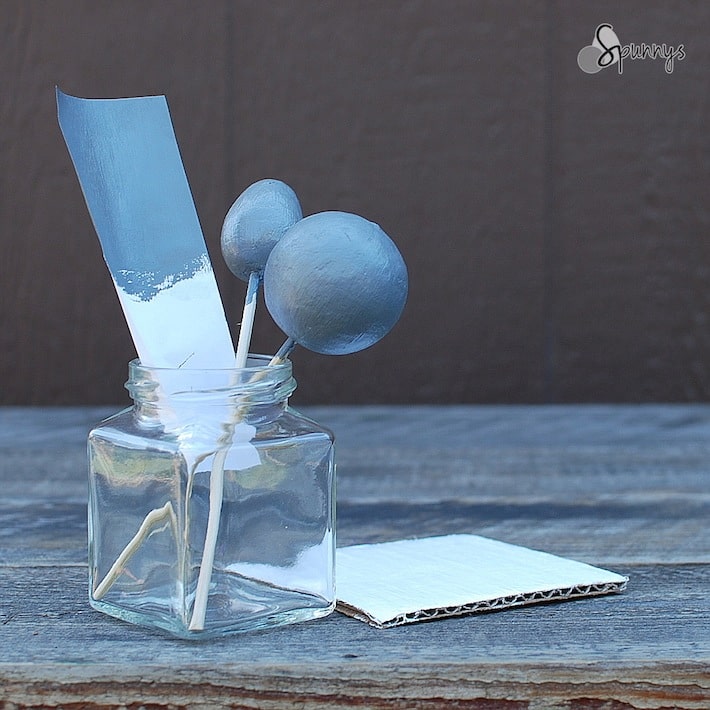 With the white paint, paint the top of the little piece of cardboard (or drink coaster if you have one).
STEP 2: Outline the facial features, the ears, and the pedestal
When the paint is dry, use a pencil or a thin black marker to:
– Outline the ears on the piece of paper. Draw them about 2 inches long and 3/4 inch wide (at the widest point).
– Outline the face of the bunny: the eyes, the nose, and the mouth.
– Draw a circle on the piece of cardboard. To draw a perfect circle, you can use a glass, a cup, or a jar as a guide – anything with a round shape.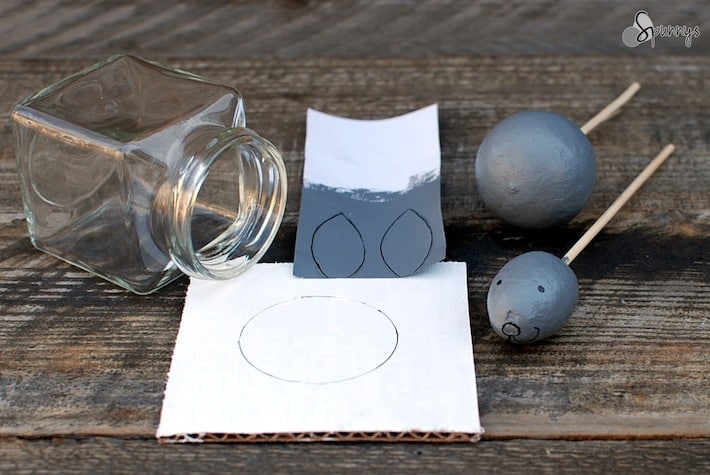 STEP 3: detail painting
With the pink paint, paint the nose and the inside part of the ears.
You can also chose to paint more details onto your figurine: rosy cheeks, a little bunny tail – anything.
I didn't have any pink paint so I mixed red and white together. This step only requires a very little amount of paint.
Let dry.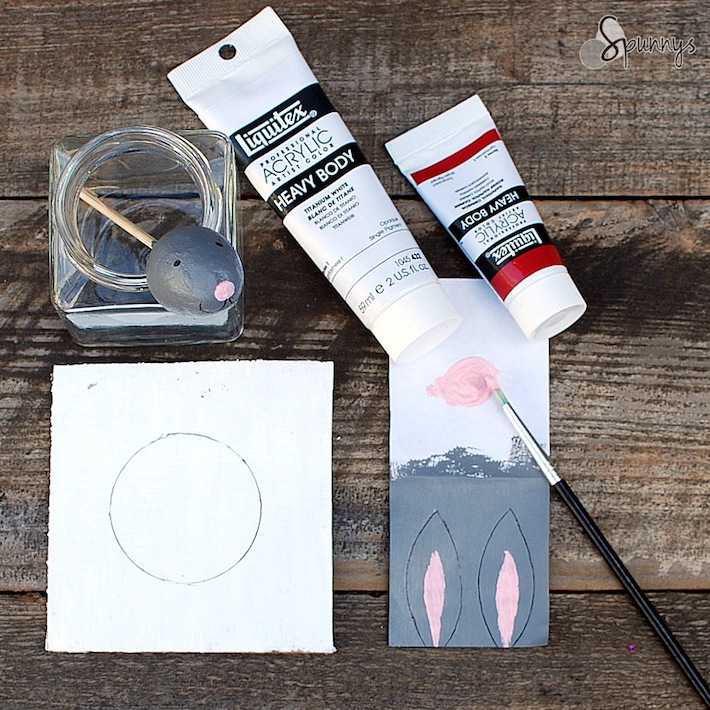 STEP 4: Cut out the different elements
With a good pair of scissors, cut out the round base out of the piece of cardboard and cut out the rabbit ears out of the piece of paper.
At this point you can power up the glue gun. However, if there are children around, do not use a glue gun. You can also get away with using thick and fast drying tacky glue.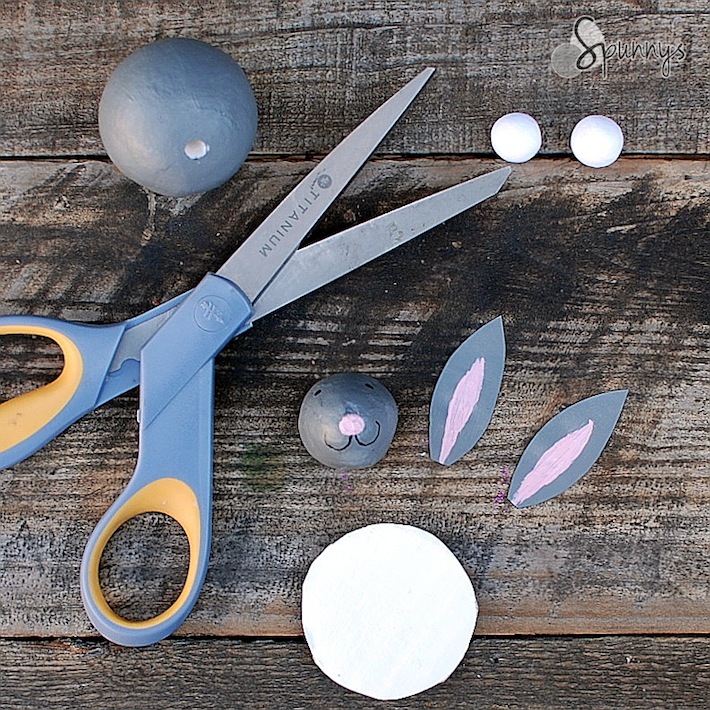 STEP 5: Glue all the pieces together.
This is the most fun part.
I use a healthy amount of glue to make sure the figurine is sturdy. When the bunny ornament is finished, the glue marks can be hidden by painting over them.
To give your figurine a little bit of character, you can shape up the ears by bending them forward or backward.
You are done! Below is how the bunny looks from its side. The glue marks for the ears show but they can be covered with paint.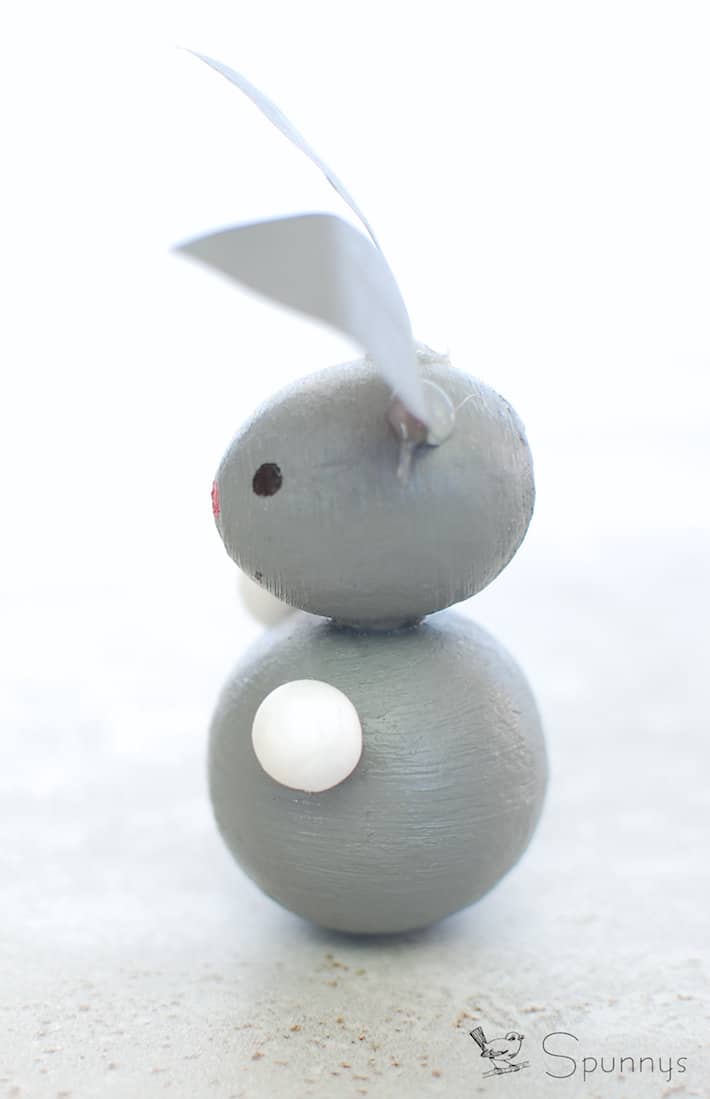 CONCLUSION
I hope you enjoyed this craft and I hope it gave you some inspiration for your next projects.
Here is a picture of some more bunnies fashioned with the same technique. Notice how for those, I used a ball shape for the heads instead of an egg shape. It makes for a different look.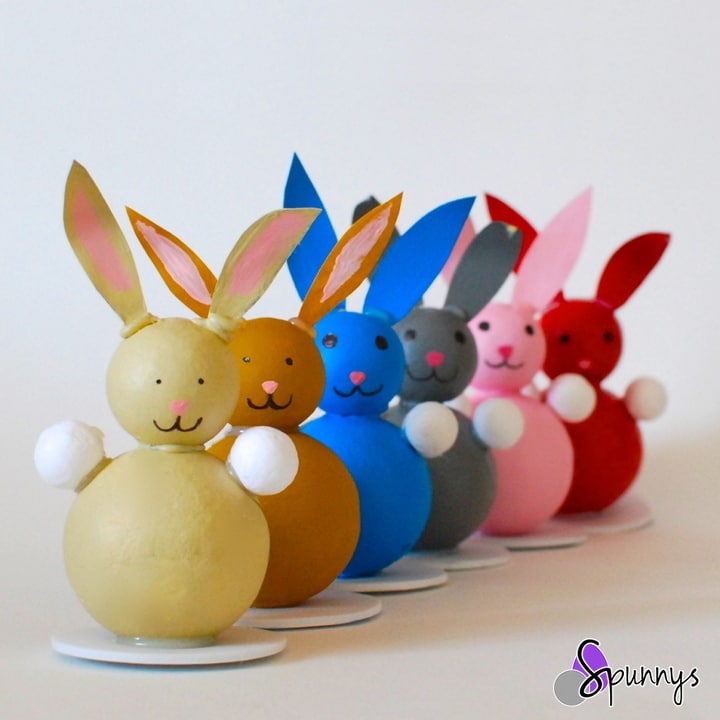 It's very easy to build little animal figurines with spun cotton shapes. For example, it would be very easy to transform this rabbit into a mouse by just changing the shape and the size of the ears. The possibilities are endless, you can build a little puppy, a sheep, a cow, a piggy, an Easter chick – anything.
Is there a specific craft that you would like to see featured on Spunnys? Do you have any questions about this craft? Feel free to leave comments below and ask any questions you may have. It's always a pleasure to hear from you. Happy crafting!