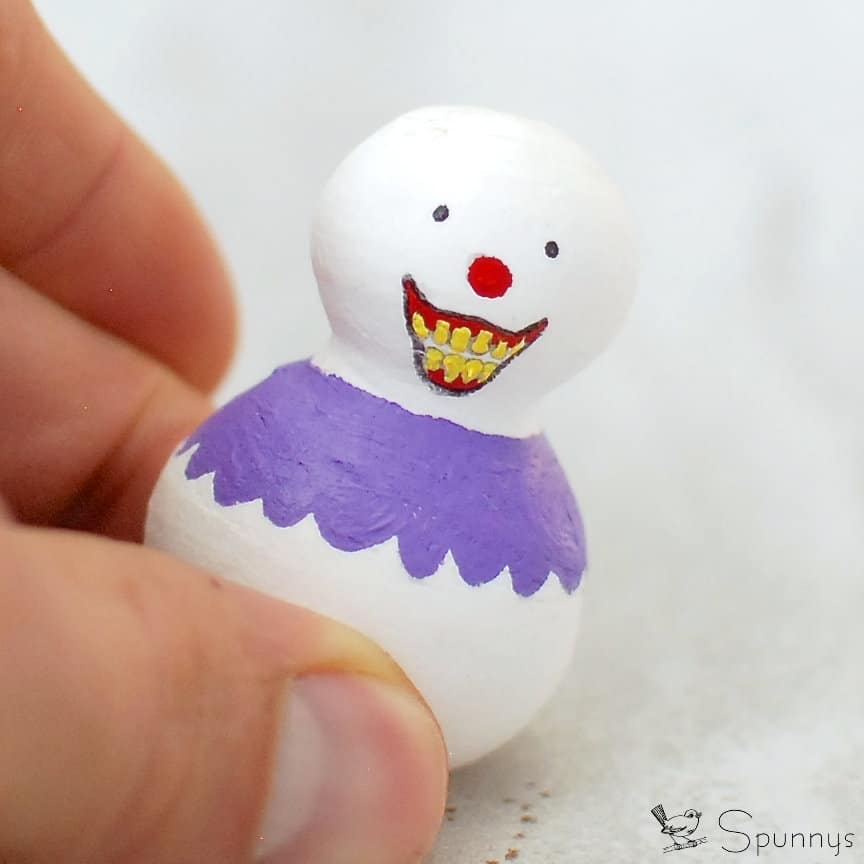 Learn how to make your own creepy Halloween figures – the easy way – with Spunnys spun cotton peg dolls. These small Halloween figures can be displayed on a bookshelf, on a tree branch (as ornaments), on a desk, on a table (as name holders for example), on a cake – there are plenty of possibilities.
Spun cotton peg dolls are similar in use to wooden peg dolls. But unlike wooden peg dolls, they are made of paper. This makes them very easy to paint and fast to dry.
SPUNNYS spun cotton peg dolls
Materials
Only a few materials are required:
Paint and brushes. I find that acrylic works very well on spun cotton shapes.
Spun cotton peg dolls. They come in several sizes. I used the 51mm dolls.
The following are optional materials:
A pencil to outline your figure before painting it.
A clear finish such as mod podge. It will protect your halloween figures from getting dirty if they are going to be handled a lot.
A few wood sticks to hold your dolls while you paint them.
A black ball pen to draw some of the face details.
Painting tips
It is always a good idea to sketch your blank figure before painting it. If you are not happy with the way the outline looks, just use a regular eraser and start over.
Never rush. Let the paint dry before painting over it. Work on 2 projects at a time if you want so you can paint one while the other one dries.
Any paint works. However, I like acrylic the most because it dries fast, it is opaque, and it doubles as a protective coating.
Spun cotton peg dolls do not require two coats of paint. There is also no need to prime them.
For detail painting, you can use a ball-pen instead of a brush.
More painting ideas
Here are a few more ideas that you can use for inspiration.
Halloween creepy ghost family
Homemade Halloween figures
This is all there is to it. I hope you enjoyed this tutorial and got a little inspiration for your Halloween craft projects. As always, if you have any questions, do not hesitate to leave a comment. Happy crafting!