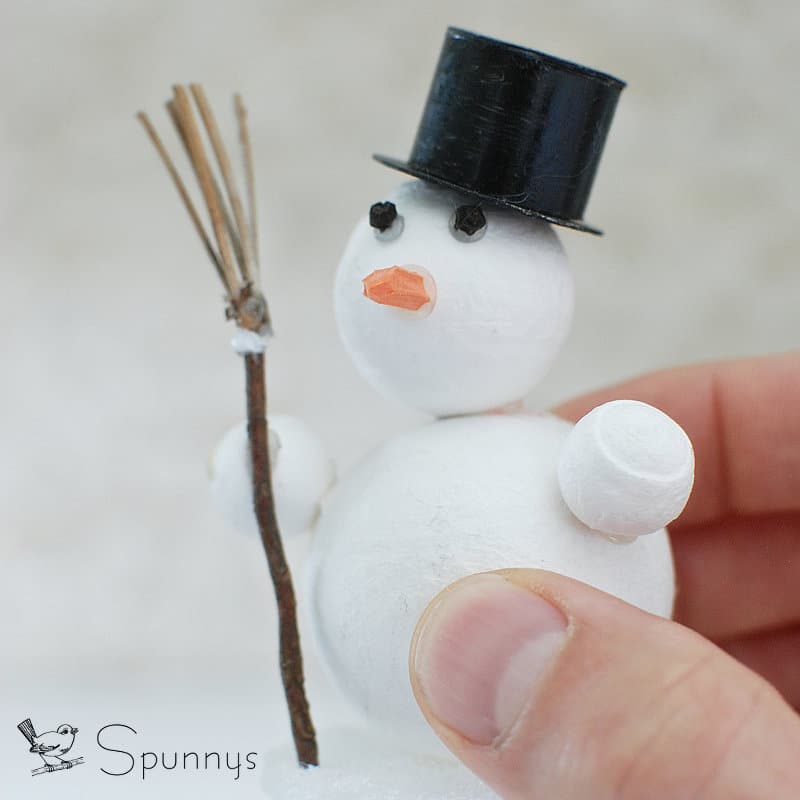 This snowman figurine was easy and fun to make. We used spun cotton balls, a lightweight and easy to paint material. This little snowman could be hung to a Christmas tree or simply proudly displayed on a shelf.
Materials
4 spun cotton balls:
One 45mm diameter ball for the body
One 30mm diameter ball for the head
Two 15mm diameter balls for the hands.
This is what a spun cotton ball looks like
It has a hole on one side where a piece of thread can be inserted.
Glue. Regular white tacky glue works well. A glue gun works fine too but should not be used if children are present.
A pair of scissors.
Something small and round to make the eyes. We used two black peppercorns.
Something orange to make the nose. We cut our snowman's nose in a piece of orange foam pad. If you do not have a piece of orange foam pad, you can use a piece of thick cardboard and paint it orange.
A piece of cardboard to make a base for your snowman so it can stand up. A drink coaster works great.
OPTIONAL: to make a broom and a hat
A wood twig and a few pine needles to make the broom.
We made the hat out of a small piece of PVC tubing and two small pieces of cardboard (one to make the rim of the hat and one to make the top of the hat). We painted the whole thing black. However, the whole hat could be made out of cardboard.
Directions
1/ Glue the head and the two hands onto the body. If you would like to be able to hang the snowman, make sure to have the little hole point up, so you can later insert an glue a piece of thread.
2/ Glue the peppercorns onto the snowman's face.
3/ Cut out the nose in the piece of foam pad and glue onto the snowman.
4/ Glue your snowman onto its base so it can stand up.
I hope you enjoyed this simple snowman DIY. Note that the same technique can be utilized to make any Christmas character (Santa, elf, …). See below for some pictures of our other projects.
Happy crafting and as always, do not hesitate to get in touch if you have any questions!