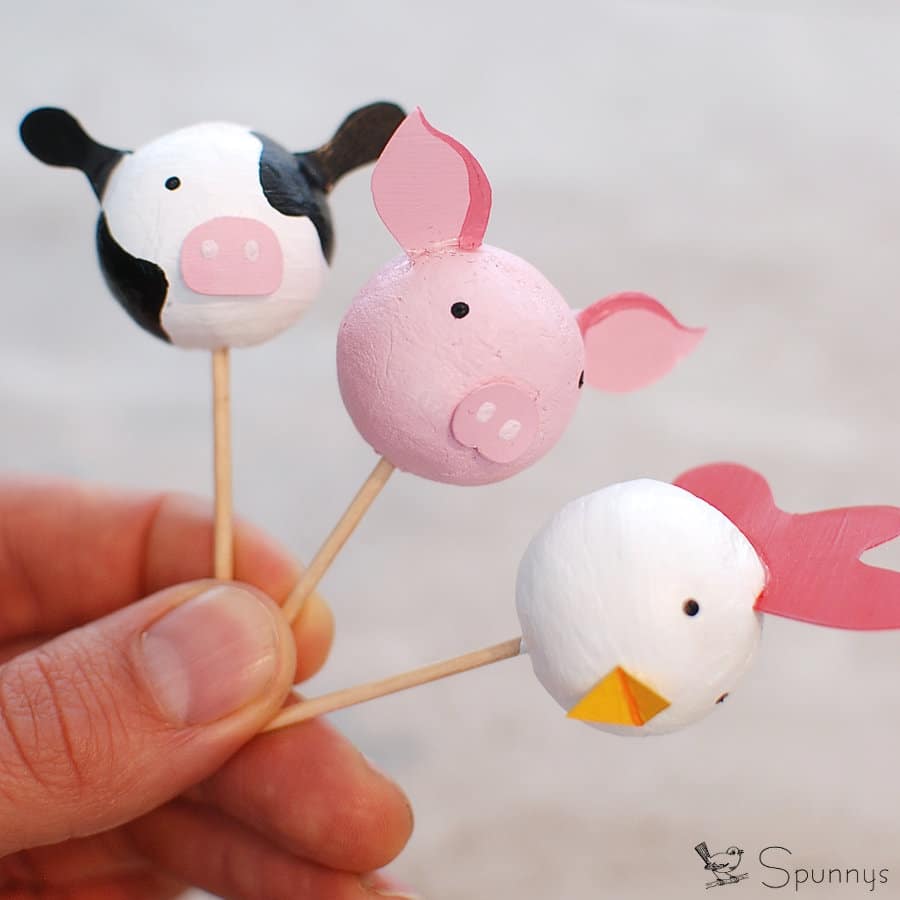 These cute DIY farm animal cupcake toppers are easy to make and require only a few materials. You can be as creative as you want: copy ours or invent your own original farm animal pops.
Materials
– Spun cotton balls (we used 30mm diameter balls, but they come in at least a dozen different sizes, from the size of a small pea to the size of an orange).
– Paint. Any paint that works on paper will also work on spun cotton balls. We used regular acrylic paint.
– Paper. We used heavy 110 lbs paper. Regular paper would work too (we have used it in the past), it would just be a little flimsier. There is no need to buy expensive colored paper, it's easy enough to paint your own paper with any color you want (on the two sides).
– Brushes, toothpicks (and/or bamboo skeewers), glue (we used tacky glue), a pencil, a cotton ball for the sheep's hair doe.
Directions
To make your farm animal cupcake toppers:
1- Begin with painting the balls with solid colors. It's easier to paint them on a stick. It also makes resting them while they dry very convenient.
2- Paint a few pieces of paper. Don't forget to paint the two sides. Once dry, you will cut out the ears, snouts, and other details into these pieces of paper.
3- Once the balls and the pieces of paper are dry, cut out the ears and snouts and glue them onto the balls with the tacky glue. We poured the glue onto the balls and then delicately positioned the ears and snouts onto the glue beads (as opposed to pouring glue onto the small pieces of paper and then positioning them onto the balls).
4- Once the glue is dry, pencil the location of the eyes and dab with black paint (we used a wood skewer dipped in black paint).
5- Add the last details: paint the sheep snout, glue a little piece of the cotton ball on top of the sheep's head, add a little detail to the ears of the cow, horse, pig, and sheep, and paint the nostrils.
You are done!
These farm animal cupcake toppers would look great on any cakes, not just cupcakes. You can also experiment with jungle animals, arctic animals, birds, doll heads… You can even try different spun cotton shapes such as eggs or mushrooms. Every spun cotton shape has a little hole at the bottom so it's very easy to turn them into toppers.
We hope you have fun and as usual don't hesitate to send us your questions (and/or pictures of your finished projects). Happy crafting!