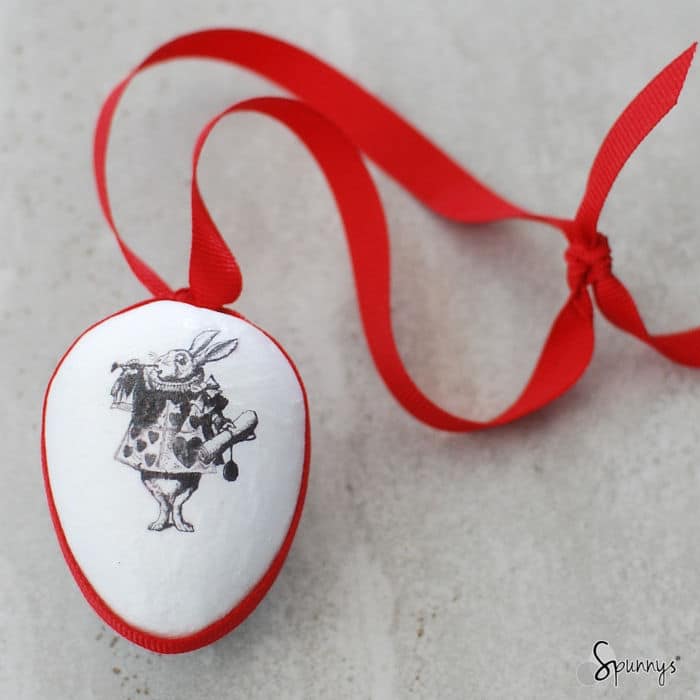 Spunnys spun cotton eggs are great materials to easily make easter egg ornaments.
Throughout this page, you will find examples of beautiful and easy to make Easter egg ornaments, all fashioned from blank spun cotton egg shapes.
Blank Spun Cotton Eggs come in plenty of sizes
A bamboo skewer can be used to hold the eggs
Spun cotton egg shapes are ideal to make ornaments because:
They don't break when dropped on the floor.
They paint very well. They are made of paper. Also since paper is absorbent, paint dries very fast on spun cotton eggs.
They all have a little hole at the bottom in which a toothpick or a bamboo skewer can be inserted. This makes for a very convenient way to hold the eggs without having to actually touch them. Hanging loops can also later be inserted in the holes.
Glue adheres very well to spun cotton eggs. They are easy to decorate with any materials that can be glued on: glass, crystals, glitter, beads, pearls, moss, wood, threads…
They are inexpensive.
They come in many sizes. At www.spunnys.com, we carry over a dozen egg sizes. The sizes range from tiny (about 1/2 inch in length) to about 2 1/2 inches in length.
Solid color Easter egg ornaments
These are the easiest of all Easter egg ornament projects. Anybody can do it! To make the three Easter egg ornaments below, I used 60mm spun cotton blank eggs and covered them with one layer of regular acrylic paint. Pretty easy!
Easter egg decoration pattern examples
Below are a few patterns that you can use for inspiration. I would also recommend that you check out Pinterest or other websites for more inspiration. Some people are amazing artists and create beautiful Easter egg ornaments. You can also use keywords such as "vintage style Easter egg ornaments", "folk art egg ornaments", "Faberge inspired egg ornaments"…
Displaying Easter egg ornaments
There are several ways to display your Easter egg ornaments. I've seen people display their ornaments in handmade little bird nests and I think it's a beautiful idea. I've also seen people hang the eggs onto fallen tree branches bundled into a vase or a bucket. For the picture below, I chose to display plain spun cotton eggs (not even painted) on top of brown floral stems (that I found at my local craft store). I added a few lavender wands and organized everything into a mason jar.
Working with more materials beside paint
Easter egg ornaments can be decorated with almost anything: ribbon, paper, fabric, felt, crystals, beads, glitter. For the picture below, I used a simple red ribbon and tied it into a knot.
Hanging Easter egg ornaments
It's easy to add a hanging loop to your spun cotton egg ornaments. Here are two techniques:
One could just tie a ribbon around the egg (see pictures further down)
One could use the little hole that is located at the bottom of every spun cotton egg and insert the end of a hanging loop into the hole. Glue can then be added to ensure that the hanging loop won't come out.
The print transfer technique
Did you know that it's possible to transfer any prints to spun cotton eggs and to other spun cotton shapes? This is useful if you have little confidence in your drawing skills.
But even somebody who can draw may still want to use this technique. It opens the door to so many creative ideas, like transferring any vintage images.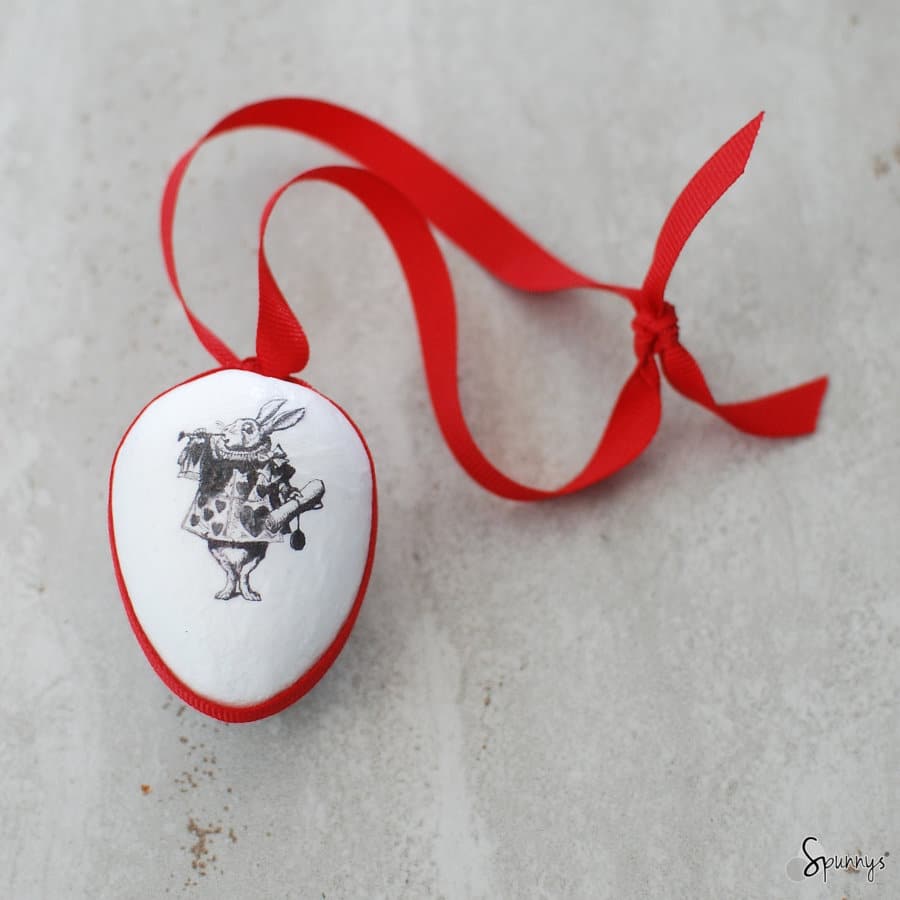 Vintage style Easter egg ornament
Here is the technique:
Search the internet for an illustration that you like. Make sure not to use any copyrighted work.
Pick a spun cotton shape that you like (spun cotton egg, ball…). They all come in many sizes.
Open your image in an image editor. Adjust the size of your image so that it fits the size of your spun cotton shape. Verify that the size is right by printing the image.
Tape a tissue (the kind we blow our noses in) onto a piece of printing paper. I like to use tissues that come in a box (like in hotel bathrooms), not the thicker tissues that come in a small 10-piece package. Feed this paper to your printer and print your illustration on the tissue side of the paper.
Cut out your illustration. To do so, just imagine an oval line going around your image and cut out along this line. Leave about 1/4″ between the edges of your image and the edges of your oval shape.
Only use the upper ply of your tissue (the one with the print on).
Brush mod podge over your spun cotton shape.
Gently lower your print onto the mod podged shape. When it makes contact, let go.
With a clean finger, tap around the print to make sure it is flush against the shape. Be very careful not to smear the ink.
Brush a little more mod podge over the tissue. Don't brush directly onto the ink. It will smear.
Brush over the wrinkles to make them disappear.
When the mod podge is dry, you will barely be able to see your piece of tissue.
A few print transfer project ideas
DIY Family photo Easter egg ornaments
The print transfer technique works with both color and black and white prints. The longest part of this project was to edit the pictures on the computer.
DIY Retro doll head on spun cotton egg
For this retro style Easter egg ornament project I first painted the egg with a solid light gray color. I then used the tissue transfer technique for the eyes, the nose, and the mouth. Even though the piece of tissue I used is white, the white is hardly noticeable over the gray, especially once it's all covered up with mod podge.
Do you have any questions about this page? Please feel free to leave a comment below! I wish you a happy Easter and a lot of fun with all your craft projects.