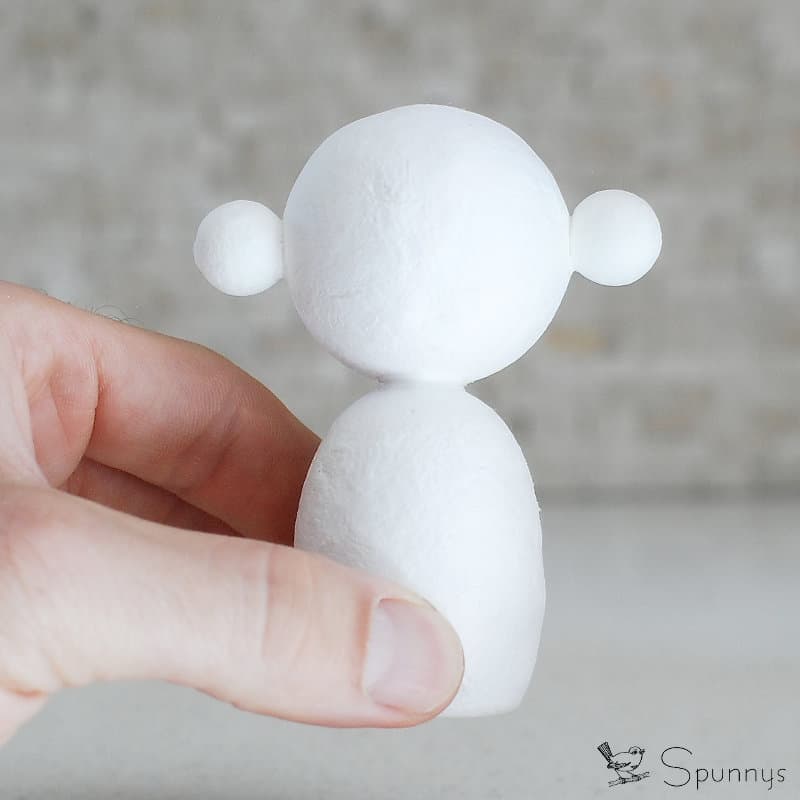 Kokeshi doll bodies are traditionally made of wood. Therefore, for most of us who don't own a wood turning workshop, making wooden Kokeshi dolls at home is no simple task.
But with a little creativity and the use of materials other than wood (such as spun cotton shapes), making blank, unpainted Kokeshi bodies at home can be an easy and fun DIY project.
The following tutorial will demonstrate how to make beautiful doll bodies with just a few spun cotton shapes. Spun cotton is a material that paint very easy and bonds to glue very well.
Spun cotton shapes are very easy to paint.
Paint dries faster on spun cotton than on wood.
Project materials
– Glue. A glue gun is a good tool to glue spun cotton shapes together because hot glue hardens in seconds only. However I like regular white tacky glue better because it doesn't leave any glue marks. Tacky glue takes about 10-15 minutes to dry.
– Your choice of spun cotton shapes. Spun cotton shapes come in a large variety of shapes and sizes.
www.spunnys.com offersa large selection of spun cotton balls, spun cotton half balls, spun cotton figurine bodies…
Above: Spun cotton figurine bodies. From left to right ( height x width in mm):
72×53, 52×39, 20×15, 54×55, 45×48, 20×25
For the three Kokeshi dolls pictured above, the following shapes were used:
Left Kokeshi: one 52x39mm spun cotton body, 1 large spun cotton ball (45mm), 2 small spun cotton balls (15mm)
Center Kokeshi: one 72x53mm body for the body, and one 54×55 body for the head
Right Kokeshi: one 45x48mm body for the body, and one 54x55mm body for the head
Of course, one is free to create his/her own Kokeshi blank bodies by using different shape combinations.
Step by step directions
It's all very easy
STEP 1: Choose a Kokeshi body type that you like. Copy one of the examples provided in this tutorial or create your own.
STEP 2: Gather the shapes that you need and glue them together (The shapes are available on www.spunnys.com).
There is a little hole at the bottom of all spun cotton shapes.
I like to pour the glue in the hole for a sturdy bond.
Kokeshi painting ideas
As mentioned earlier, spun cotton shapes paint very easily. Despite their names, they are made of paper so they are just as easy to paint as a piece of paper. They also dry out very fast because paint gets absorbed well.
To paint on spun cotton, I like to use acrylic paint because it dries fast, goes on easy, and creates an additional protective layer around the dolls. However, any paint that works on paper will also work on spun cotton shapes. For your kokeshi dolls to look nice and shiny, you can finish them with a clear coat varnish. Mod podge for example provides great results.
I like to use acrylic paint
Sometime it's easier to use a pen than a brush.
Take advantage of the hole at the bottom of the shapes.
Paint the whole body at once with the help of a bamboo skewer.
A 16mm half ball is glued on top of the yellow kokeshi.
I hope you enjoyed this Kokeshi DIY. I had a lot of fun making the dolls and I'm sure you will too if you give it a try. Spun cotton shapes are great craft materials for creative minds. There are undoubtedly many more ways to configure spun cotton shapes into doll bodies beside the few ways I presented here. So please feel free to share your doll ideas.
Happy crafting!