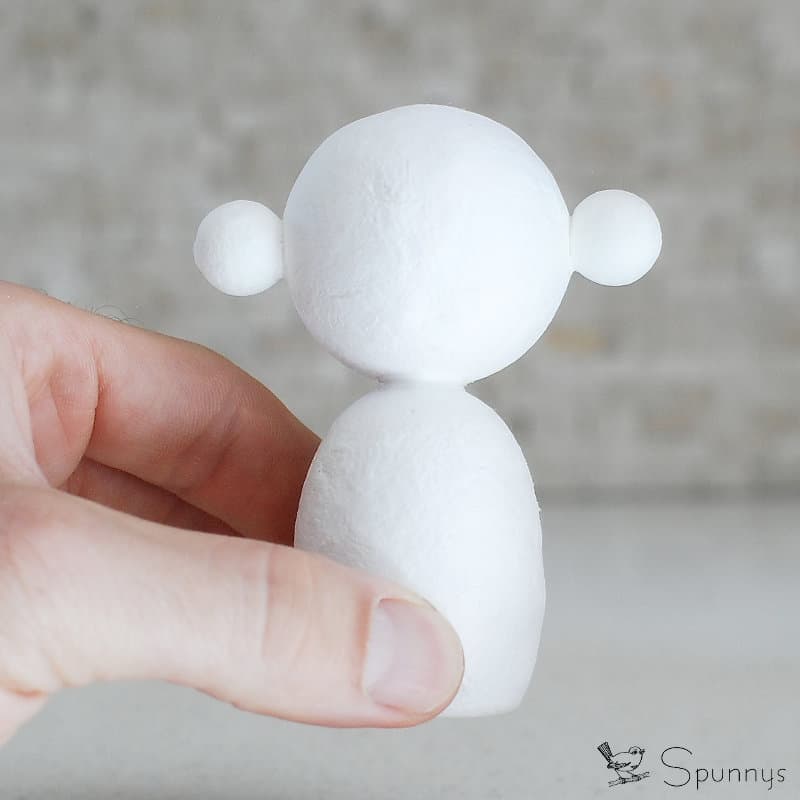 In this tutorial, learn how you can make your own blank kokeshi dolls from spun cotton shapes – a fun and creative DIY project for all ages.
Spun cotton shapes are very easy to paint and glue
Project materials
– Glue gun or tacky glue, both work well.
– The following blank body shapes:
Left Kokeshi: one 52x39mm spun cotton body, 1 large spun cotton ball (45mm), 2 small spun cotton balls (15mm)
Center Kokeshi: one 72x53mm body for the body, and one 54×55 body for the head
Right Kokeshi: one 45x48mm body for the body, and one 54x55mm body for the head
You can also create you own blank Kokeshi dolls by using different shape combinations. Here are a few shapes that work well together:
Step by step directions
Choose a combination of blank shapes that you like.
Simply glue them together.
It is now time to get your paintbrushes and paint colors ready :)
There is a little hole at the bottom of all spun cotton shapes.
Make sure to pour the glue in the hole for a sturdy bond.
Blank Kokeshi dolls – painting ideas
To paint the blank dolls, I like to use acrylic paint because it dries fast, and it's easy to work with. However, any paint that works on paper will also work on spun cotton shapes. For your kokeshi dolls to look nice and shiny, you can finish them with a clear coat varnish. Mod podge for example works very well.
You can also check out our "how to paint peg dolls tutorial" for more general painting tips and advice (link).
I like to use acrylic paint
For facial features, it is easier to use a pen than a brush. 
It helps to use a bamboo stick to hold the shape.

A 16mm half ball is glued on top of the yellow kokeshi.
I hope you enjoyed this tutorial. As always, if you have any questions, feel free to comment, we are always here to help.
Happy crafting!