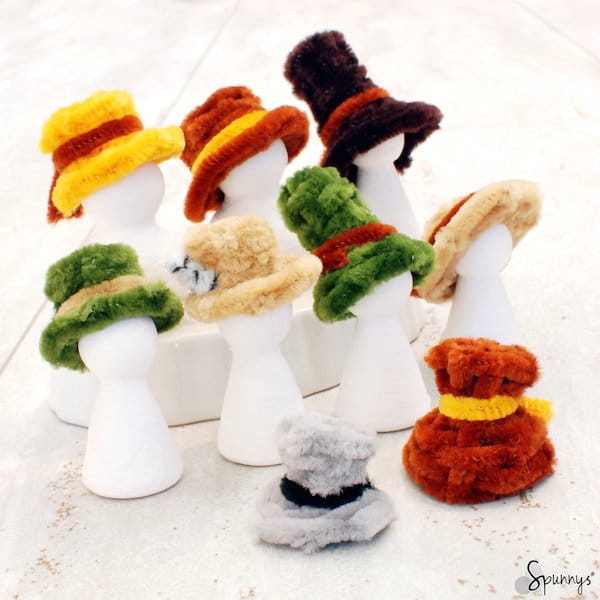 These miniature pipe cleaner hats can be used for crafts, for dolls, for peg dolls, for decorating, as Christmas ornaments, as Halloween decoration, as hair clips – anything. A piece of string could also be added so they can be hung.
The hats are very easy to make and after a little bit of practice, 5-10 minutes is all it takes to make one hat.
All the hats in this tutorial are made with the same technique. With this simple technique, almost any kind of hat styles could be fashioned. One can make a Santa's hat, an elf's hat, a pilgrim's hat, a leprechaun's hat, a wizard's hat, a top hat, a bucket hat, a swinger hat, a sun hat, a beanie hat, a boater hat, a cloche hat – almost any hat.
Each paper peg doll is about 2 inches tall
Note: the little peg dolls I used as mannequins are made of paper and can be painted or drawn on. They are available here. Paper peg dolls and pipe cleaner hats are a great combination. Paper peg dolls are forgiving. If your hats are a little too small, the heads of the paper peg dolls can be squeezed a little to fit in the hats.
Materials needed
Each hat requires 4 to 5 strands of pipe cleaners (also known as chenille stems). You will also need a pair of wire cutters and a pair of pliers. No other materials and/or tools are needed.
I used regular pipe cleaner, the most commonly available kind (12″ long, .23″/6mm wide). But any kind of pipe cleaner could be used. There are several varieties of pipe cleaner out there: plush pipe cleaner, bump pipe cleaner, glitter pipe cleaner, narrow pipe cleaner…
Pipe cleaner are pretty cheap, don't hesitate to buy a bunch so you can have fun experimenting with colors and shapes.
Pipe cleaner hats folding technique
To illustrate the technique, we are going to make a simple hat. Once you understand the technique, you are then free to experiment with different style of hats. To make different style of hats, all you have to do is bend the pipe cleaners at different angles. What I mean will become clearer as you read the tutorial below.
Step 1: Gather 5 strands of pipe cleaners (4 strands will suffice in some cases).
Step 2: Cut 2 strands in half (fold the full length strands in two to identify their mid-points).
Step 3: With 3 half-length strands and one full length strand, make an 8 arm star. The star needs to be exactly like the one in the picture below (7 short arms, one long arm).
The 7 short arms are the frame of your hat. The 8th arm will be weaved through the frame to build the hat.
Step 4: Weave the crown of the hat.
Roll the long arm around the center of the star while going up and under the other arms. Go up, then under, then up, then under…
When you are done with the top of the crown, bend all of the 7 arms down and continue weaving. When you run out of pipe cleaner, attach a new strand to the old stand and continue weaving until you are satisfied with the size of your crown.
Step 5 (final): Weave the brim.
When you are done with crown of the hat, bend the pipe cleaners again to make the brim of the hat.
When you are done with the brim, you can add a little hatband if you'd like. Then, fold all the arms under the brim of the hat and cut them with the wire cutter. Dont make the cuts on the edge of the hat, make the cuts under the hat, or else it will look bad.
THIS IS IT!
I really hope you enjoyed this tutorial and that it motivated you to make your own pipe cleaner hats. If you do, I recommend that you buy many colors of pipe cleaners. This way you can experiment. The pipe cleaner hats are a lot of fun to make and there is a lot of room for creativity.
As always, if you have any questions, do not hesitate to use the comment section below. Happy crafting!
Miniature hats: a few more project pictures
Mini pipe cleaner wizard hat