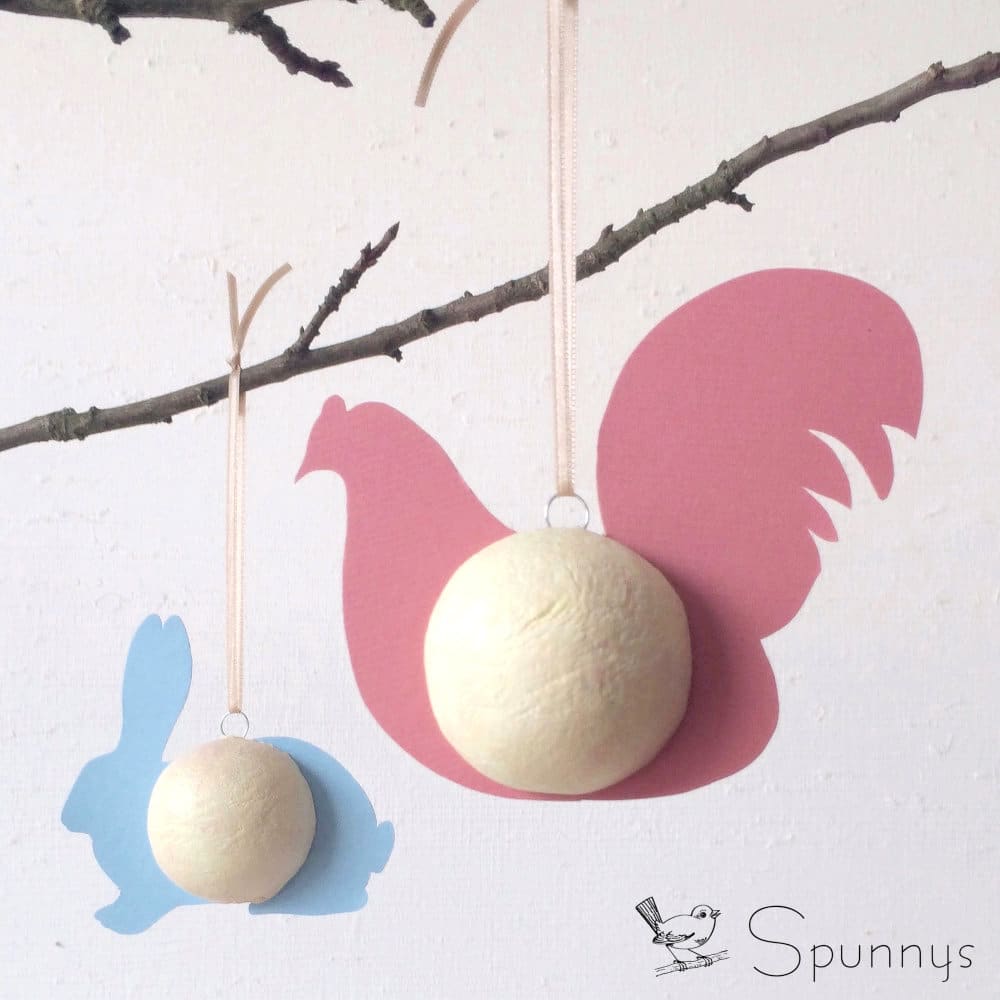 Our hanging vintage Easter ornaments are cute and easy to make. The ornaments consist of simple cardboard silhouettes attached to large spun cotton balls.
The templates for the silhouettes can be downloaded below. There are two silhouettes to choose from:
A beautiful hen / chicken with a fluffy tail (it could easily be made into a rooster silhouette with the addition of a comb).
An adorable bunny rabbit with raised up ears.
PROJECT MATERIALS
Colored stock paper or cardboard (make sure the two sides are colored). It would be interesting to try different colors than the ones we used here. Patterned stock paper would look great too and would add an additional "vintage" or "retro" dimension.
40mm spun cotton balls. The downloadable silhouette templates below are just the right size to work with 40mm balls. But for smaller ornaments, smaller balls (such as 30mm or 35mm) could also be used. The silhouette templates would simply need to be scaled down before being printed.
A good pair of sharp scissors
A pack of Christmas ornament hooks (see picture below)
A few pieces of colored ribbon
Paint and paintbrush if you would like to paint the balls. They are sold white and could also be used as is. We painted our spun cotton balls in a slightly off white color.
A glue gun (regular white craft glue would work too, but the project would take longer).
A bread knife – or a retractable razor knife (the kind with the long blade that can be snapped)
Important: glue can be used in lieu of using a knife if you are not comfortable using sharp tools.
Bunny silhouette template
To download: Ctrl+click the image and choose "save linked file as"
Chicken silhouette template
To download: Ctrl+click the image and choose "save linked file as"

STEP BY STEP TUTORIAL
Step 1: Gather all your materials
40mm diameter spun cotton balls
A pack of hooks (normally meant to be used with Christmas ball ornaments)
Step 2: Paint the spun cotton balls. We created our own off-white color by mixing a little bit of yellow paint into white paint.
A toothpick or kebob stick comes in handy to hold the balls.
Step 3: Outline the chicken and rabbit silhouettes onto the colored stock paper (you can download our silhouettes or create your own). Once the silhouettes are outlined, carefully cut them out with the pair of scissors.
Step 4: If you are working with 40mm balls, draw 40mm circles on the silhouettes to mark where the balls will ultimately be positioned. Then draw a second smaller circle within the larger circles. Finally draw a vertical line in the middle of your circles.
A coffee pod was just the right size to draw out the inner circles.
Step 5: Cut each silhouette in half. Then cut out the inside part of the inner circles.
Step 6: Draw an imaginary line splitting each spun cotton balls in two half balls. This line needs to run over the holes. With the bread knife or a sharp blade, make a quarter inch incision along this line.
If you prefer not to use any sharp tools, you can bypass this step and later use glue (tacky glue for example) to attach the silhouettes to the balls.
I used a rubber band to draw a straight line
Step 7: Pour a little hot glue in the holes and immediately insert the metal loops. Hold the loops in position for about 15-30 seconds until the glue is dry.
I re-shaped the metal loop a little bit so it fits better in the hole.
Step 8: Simply insert the cardboard silhouettes into the incisions.
Glue could also be used to attach the animal silhouettes to the balls.
Step 9: Use little pieces of ribbon to hang your finished ornaments.
Vintage chicken ornament
This is it. I hope you enjoyed this tutorial and are considering building your own ornaments. For the more creative among us, there would be plenty of ways to customize this craft:
different animal silhouettes could be used (a lamb, a hare, a chick…)
different spun cotton shapes could be used (an egg would work well)
different color card stock or patterned stock paper could be used.
Let us know if you have any questions and happy Easter!