Pipe cleaner penguins DIY – winter craft ideas
These miniature pipe cleaner penguins are incredibly cute and very easy to make. And they only require a few inexpensive materials.
They are great to decorate the house during the winter season. I chose to display mine on a shelf over the fireplace. But they would look cute as table decorations, on a bookshelf, on a nightstand – anywhere.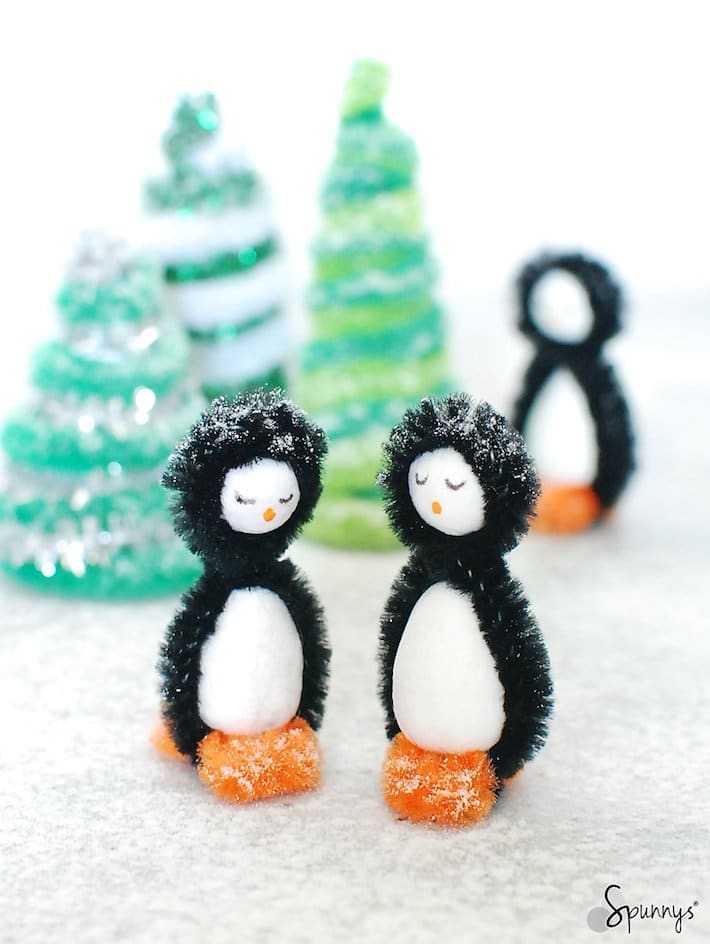 Pipe cleaner penguins
(flour dusted)
The penguins would also work great to create little winter scenes. One could display them along other pipe cleaner animals such as polar bears, reindeers, or snow bunnies. For the picture here, I made a little scene with pipe cleaner Christmas trees and my little pipe cleaner penguins. For the snow, I used flour. A strainer works great to sprinkle the flour evenly.
It would also be easy to add a little hanging loop and turn the penguins into Christmas tree ornaments.
Pipe cleaner penguins – List of materials needed
The secret to making these penguins resides in the combined use of (1) pipe cleaners, (2) spun cotton balls and (3) spun cotton eggs.
Spun cotton shapes are ideal companions to pipe cleaners. When a piece of pipe cleaner is twisted around a spun cotton shape, it creates pressure around the shape and locks it into place.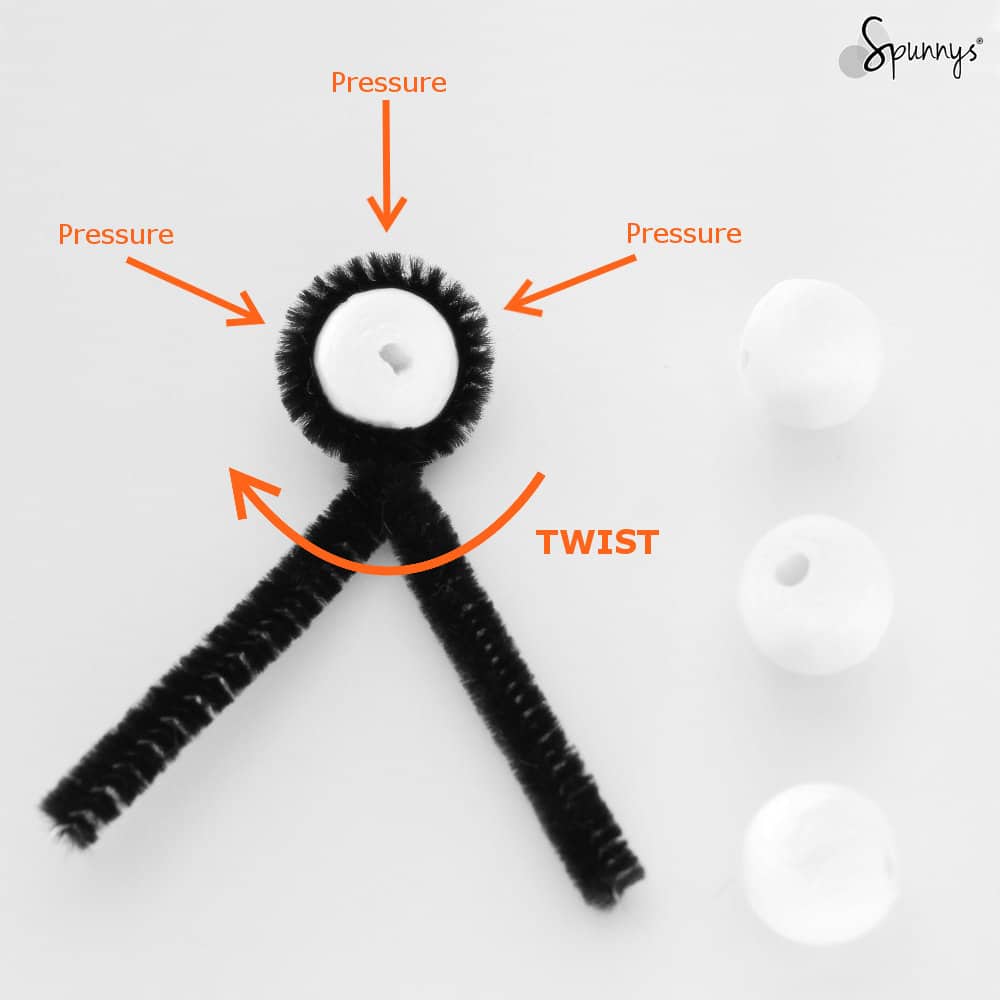 This technique opens the door to many pipe cleaner animal craft ideas, including penguins, bears, monkeys, dogs, rabbits, koala bears – the sky is the limit.
To see pictures of cool pipe cleaner animal projects, please feel free to check out this other tutorial: "pipe cleaner animals – ridiculously cute DIY ideas"
Going back to our penguins…
To make one pipe cleaner penguin, you will need:
1) One 10mm diameter spun cotton ball and one 18mm spun cotton egg. The resulting penguin will be tiny, about 1.5 inches tall. For a bigger penguin, feel free to use larger size shapes. The eggs and balls come in plenty of different sizes.
2) One small piece of orange pipe cleaner and one small piece of black pipe cleaner.
3) A black ball pen, a tiny amount of orange paint (acrylic is fine), and a very fine paint brush.
4) A pair of wire cutters and a pair of pliers.
Step by step instructions
Step 1: Prepare the feet and the head.
For the feet, simply make a little donut out of a small piece of orange pipe cleaner.
For the head, grab a spun cotton ball and draw the eyes with the ball pen and paint a small nose with the orange paint. I used a toothpick to hold the ball.
IMPORTANT: Make sure the ball's hole is on top of the head, not on the bottom.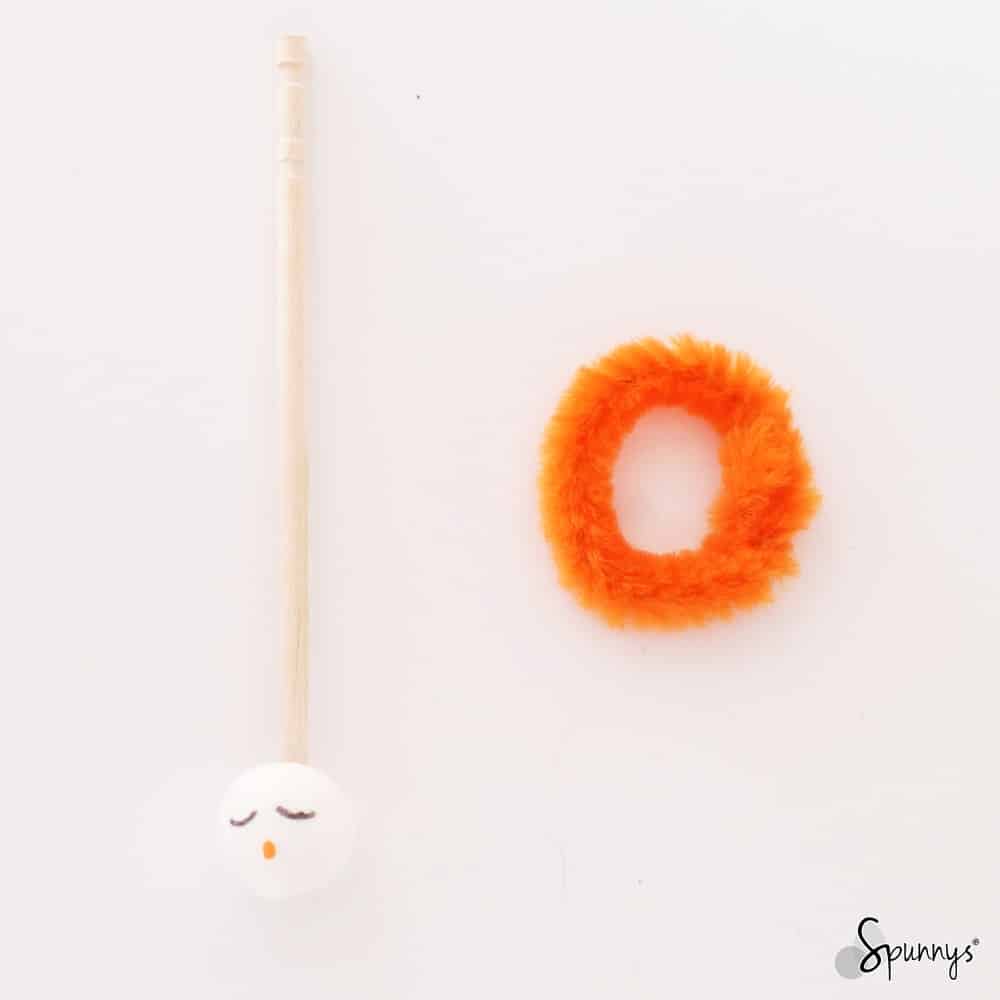 Step 2: Twist the pipe cleaner around the head.
I only gave it 3-4 twists. You can use the pair of pliers but I did without. Make sure the pipe cleaner is tight around the ball before you start twisting.
Step 3: Twist the leftover pipe cleaner around the body and the feet.
This is the most delicate step because the body (the spun cotton egg) and the feet have to be held together with one hand while your other hand twists the pipe cleaner under the feet. But after a few pipe cleaner penguins you will become an expert at it :)
TIP: Position the part of the feet where the pipe cleaner overlaps in the back where it doesn't show as much.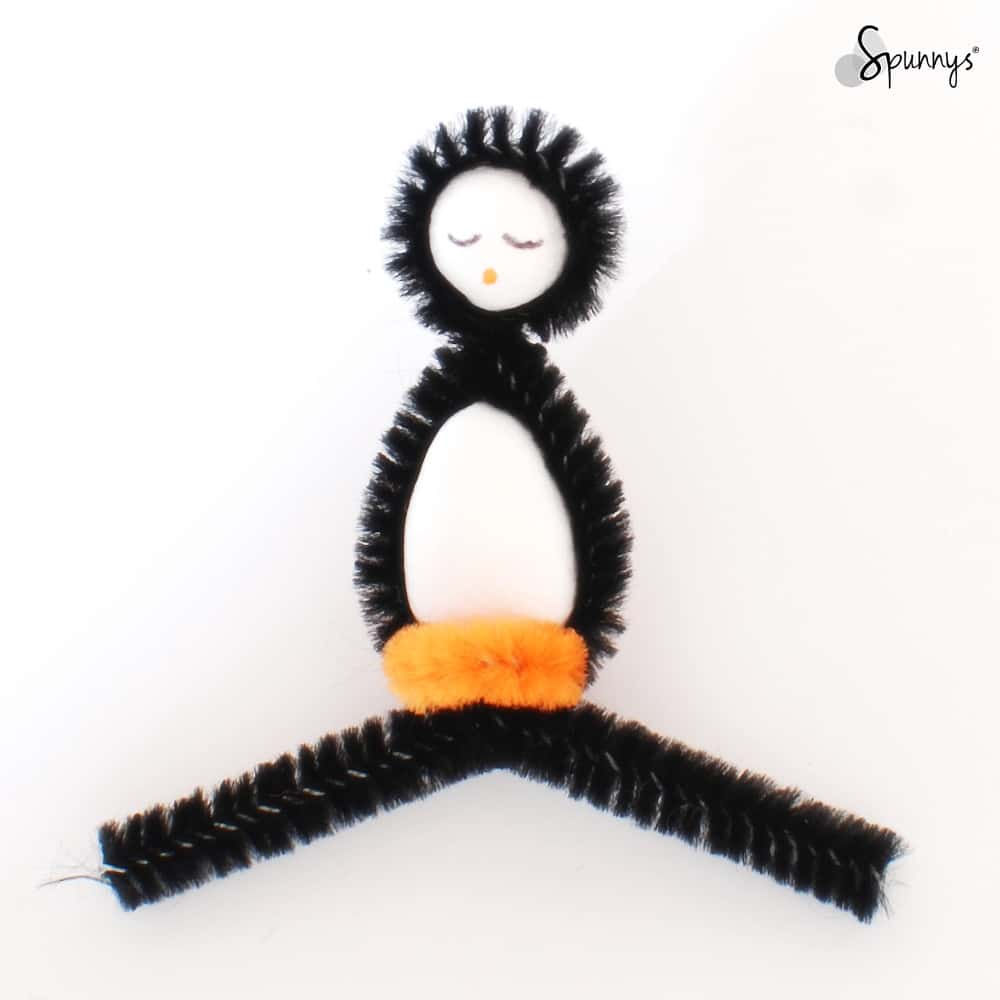 Step 4: The excess length of pipe cleaner under the feet can be cut off or left on. If left on, it can be used to tie the penguin around things (like the handle of a coffee mug).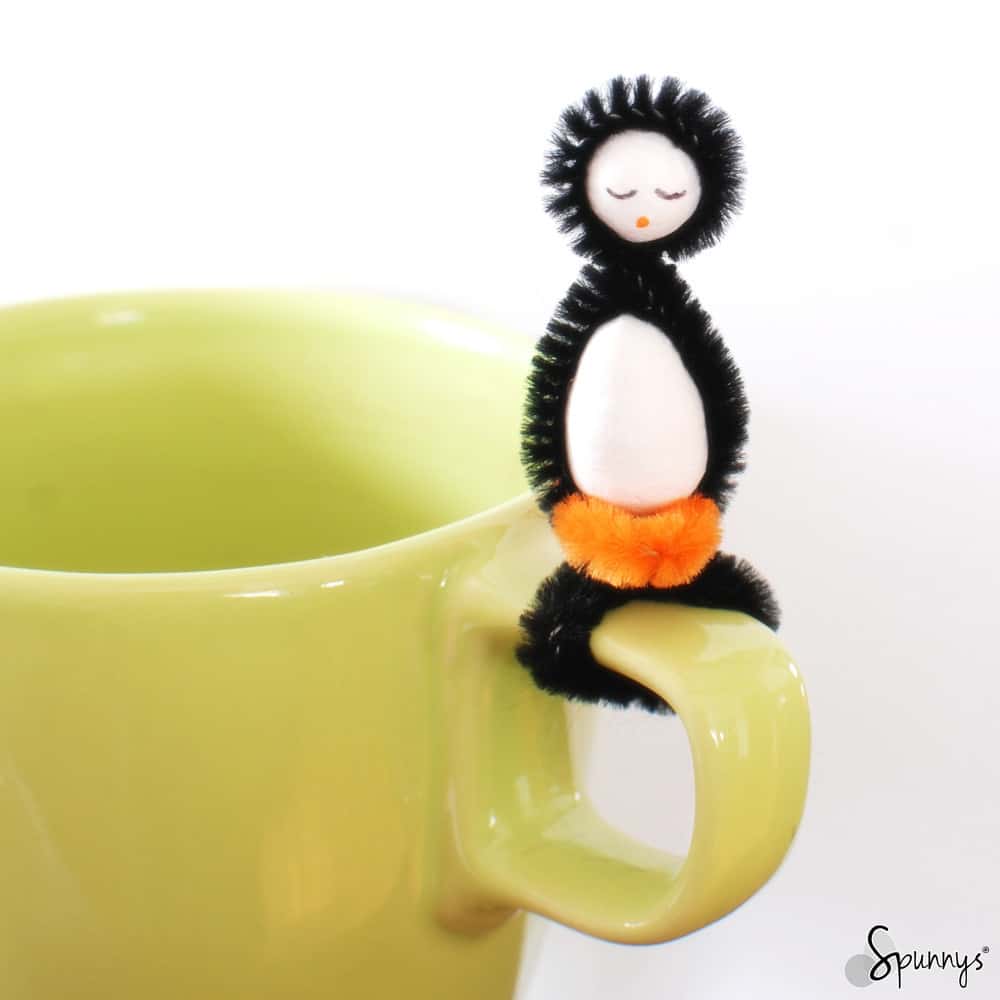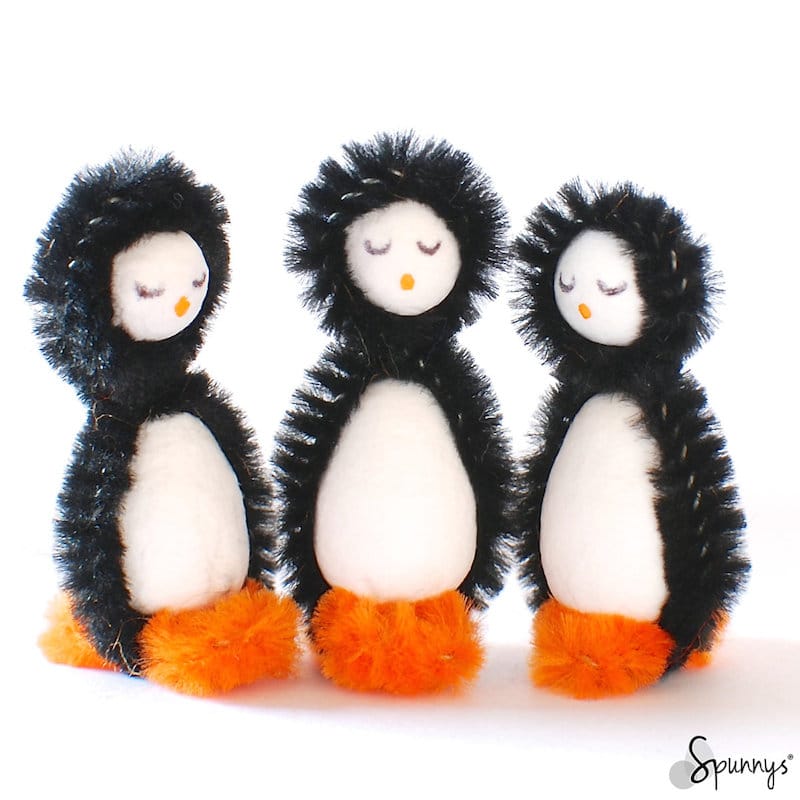 As mentioned earlier, you can use this same technique to create other pipe cleaner animals such as little rabbits, little bears – the possibilities are endless.
I hope you enjoyed this page and as usual, if you have any questions or any suggestions to improve this craft, do not hesitate to use the comment section below.
Thank you for reading, good luck with your penguin projects, and happy crafting!