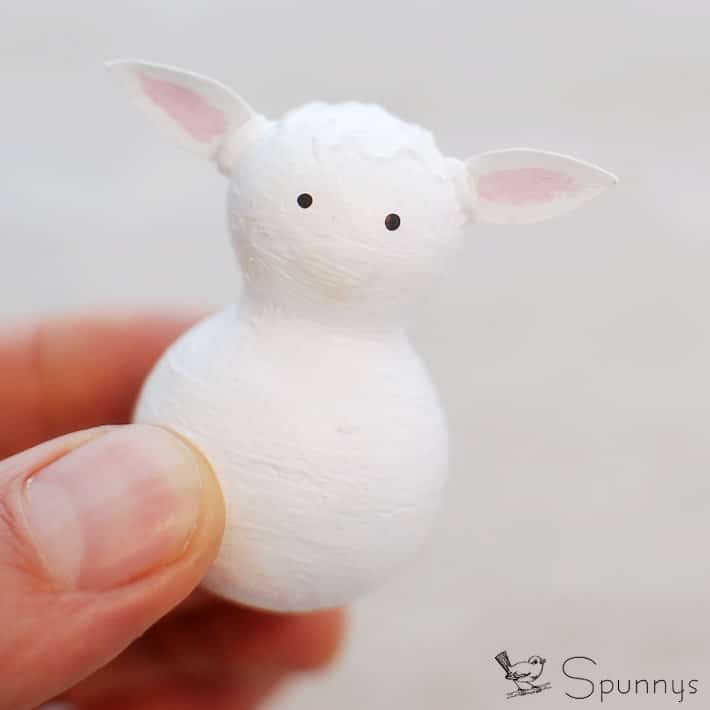 Here is a simple and easy way to make an adorable little lamb figurine for Easter. You can use this little ornament to decorate your house, or you can mount it on a stick and use as a cake topper.
Materials
A blank spun cotton peg doll. They come in several sizes. I used the 51mm tall peg doll. Spun cotton peg dolls are lightweight and easy to paint.

Spun cotton peg dolls all have a little hole at the bottom.
White paint, pink paint, black paint. I like acrylic paint because it dries relatively fast and creates a nice protective layer around the doll.
A bamboo stick.
A small piece of white paper to cut the ears into.
A pair of scissors.
A hot glue gun.
A paint brush.
A pencil to outline the eyes before painting them.
Directions
Step 1: Paint the little piece of paper white. This will be the ears. Make sure to paint the two sides. You could also get away with not painting the piece of paper since the paper is already white but painting it makes it sturdier.
Step 2: insert the bamboo stick into the bottom of the shape. Hold your doll with the stick and paint it white.
Step 3: when the piece of paper is dry, draw ears and cut them with the scissors. Paint the inside of the ears with the pink paint.
Step 4: glue the ears onto the blank doll. Make sure to have them stick out from the sides to look like a lamb.
Step 5: dip the pointy end of the wood stick into the black paint and dab the eyes. I always pencil the location of the eyes first.
FINISHING TOUCHES: Paint the glue marks around the ears. You can also add more paint between the ears to look like hair. Texturize with the wood stick.
If you want, you can use your spun cotton lamb ornament to create little scenes. For the scene below, we painted two small spun cotton eggs with green acrylic paint to look like small shrubs.
I hope you enjoyed this simple Easter craft idea. Of course, peg dolls can be turned into more than just cute little lambs. They can be turned into pretty much any animal, superheroes, famous characters – there are no limits. As always, do not hesitate to send me your questions or feel free to leave a comment below. It's always a pleasure to hear from you.