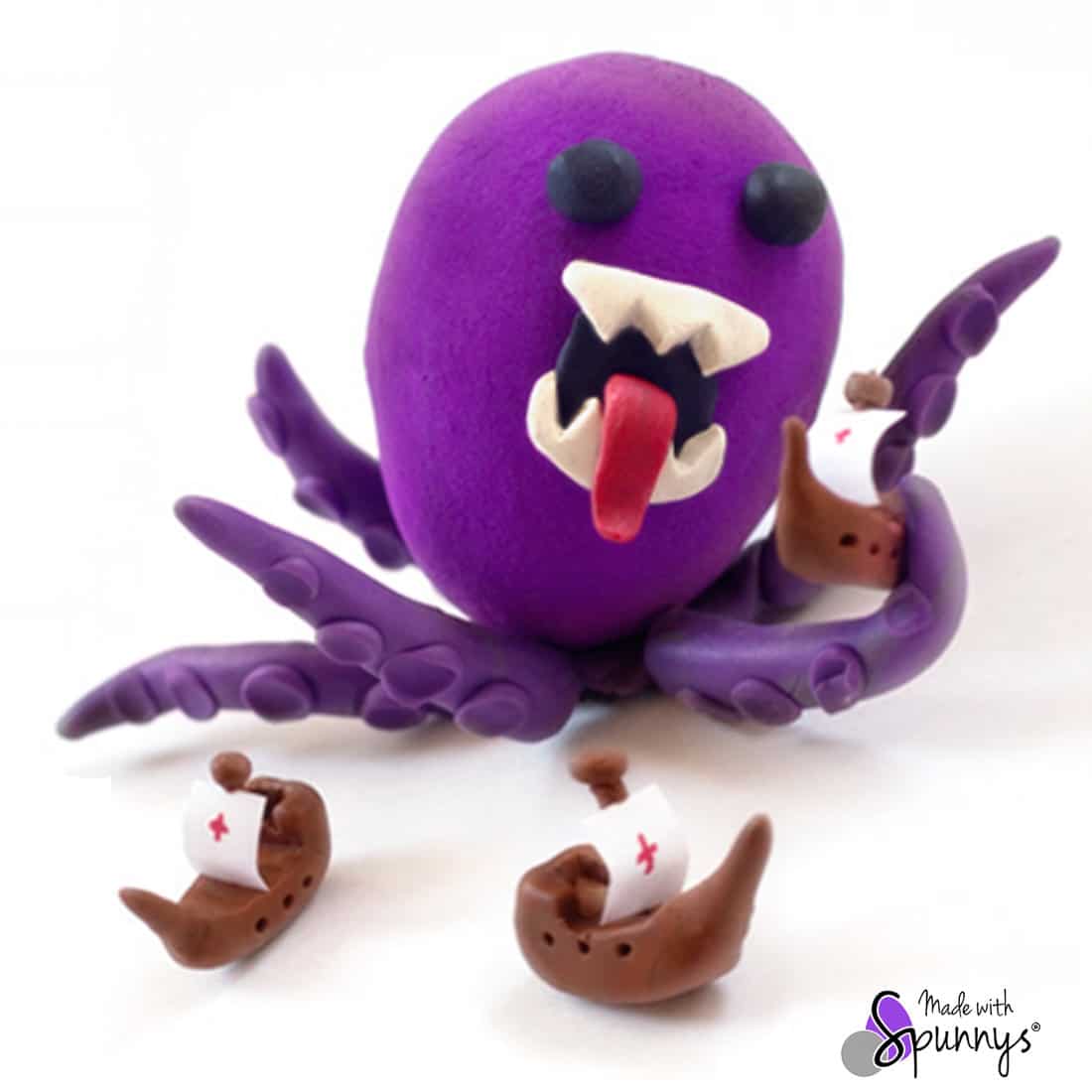 One simple way to create claymation figures is to combine clay and spun cotton shapes. For example, to make the octopus pictured below, a spun cotton egg (painted purple) was used for the body, and clay was used for the tentacles.
Spun cotton shapes are made of paper and "grip" very well to clay. They are also lightweight (but not crumbly) and they come in many shapes and sizes (eggs, balls, half balls, peg dolls…). The idea of combining clay and spun cotton shapes comes from my friend Nick Lockheimers, a talented graphic artist. Nick realized all the projects that are presented on this page.
Project Materials
Spun cotton shapes. Your choice of balls, eggs, dolls…
Paint. Any paint that works on paper works on spun cotton shapes. Nick used tempera.
Modeling clay. Nick uses plasticine.
Creativity (as much as you want).
A few examples
For the centaur project , Nick used a 1.2″ spun cotton ball hidden inside the "rump". In this case, he totally covered the shape with plasticine. The spun cotton ball is not visible and acts as a filler.
In the above example, spun cotton peg dolls were used to make the characters on this mini movie set. Nick added plasticine details to the blank shapes such as a beret, a baseball cap, and a mustache.
For the space shuttle, Nick used a spun cotton egg. I love the caption too because sky really is the limit to what can be achieved with spun cotton shapes and clay.
And in this last example, Nick once again used a spun cotton egg and made a very creative Halloween Dracula claymation figurine.
I hope you enjoyed this page and found some inspiration for your next animation figurine projects. As always, do not hesitate to send me your questions or to leave a comment below. It's always great to hear from you. Happy crafting!
Note: You can find Nick on the web at www.pixelrgb.com.